Investigation launched after mishap involving USNS Alan Shepard
By Greg Norman
---
The U.S. Navy has launched an investigation into how its 19,000-ton cargo ship USNS Alan Shepard ran aground in the Middle Eastern country of Bahrain over the weekend. 
In a statement to Fox News, U.S. 5th Fleet spokesperson Cmdr. Tim Hawkins said USNS Alan Shepard "ran aground while moving under its own propulsion from ASRY shipyard in Al Hidd to a pier at Khalifa Bin Salman Port. 
"Assisted by tugboats, Alan Shepard maneuvered under its own power this morning at high tide and is safely moored pierside in Bahrain," he added. "No personnel were injured. An investigation into the circumstances of the grounding is ongoing." 
An estimated 85 crew members were on board the ship at the time it ran aground.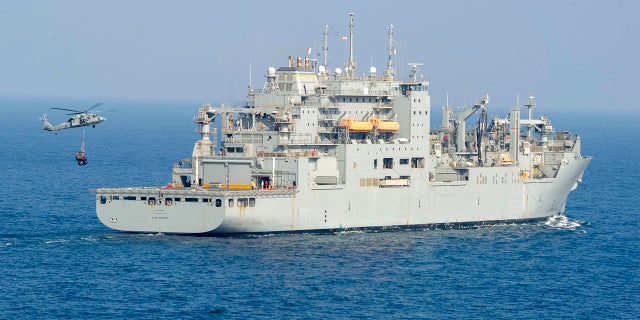 The ship transports dry cargo and ammunition and was commissioned in 2007, according to the Naval Vessel Register. 
In 2017, USS Antietam ran aground in Tokyo Bay, spilling around 1,100 gallons of hydraulic fluid into its waters, according to Stars and Stripes. 
A Navy investigation later concluded that the former commanding officer of the guided missile destroyer was "ultimately responsible" for the mishap, the website added. 
That incident left a repair bill of at least $4.2 million, and the Navy investigation said Capt. Joseph Carrigan's "judgment and decision making, including his actions that distracted or rushed the bridge team" was primarily to blame, according to Stars and Stripes. 
More recently, two U.S. Navy warships were forced to make an evasive maneuver to avoid a head-on collision in San Diego Bay in late 2022. 
Nail-biting video released of that incident showed the moment the guided-missile destroyer USS Momsen approached the exiting dock landing ship USS Harper's Ferry. The ships appeared to be heading directly toward each other before the 544-foot USS Momsen makes a hard turn to port, or left, to avoid the larger, 610-foot USS Harper's Ferry.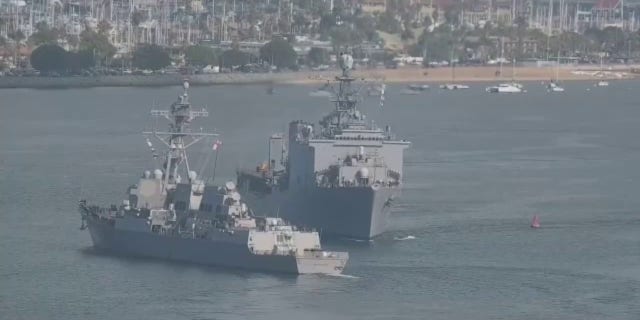 The ships slip past each other without incident or injury from any crew members on board. The near-collision took place in a narrow section of the channel between Naval Base Point Loma and Naval Air Station North. 
Fox News' Sarah Rumpf-Whitten contributed to this report. 
---