By Steve Rosenberg
The clock in the Kremlin's Spassky Tower strikes midnight.
The Russian national anthem plays.
Then Channel One TV kicks off 2023 with a pop song: "I'm Russian and I will go all the way…I'm Russian, to spite the world."
Next on Top of the (patriotic) Pops: "I was born in the Soviet Union, I was made in the USSR!"
I change channels. At the Russia-1 New Year party, one of the station's most famous war correspondents is holding a champagne glass, toasting 2023 and wishing for "more good news than bad from the front line".
Sitting with him are men in military fatigues. A Moscow-installed official from Russian-occupied Ukraine declares: "I wish us all peace. But peace will only come after our victory."
You get the gist. This year's festive extravaganzas on Russian TV are a strange mixture of let's party and let's win on the battlefield.
This is not normal TV fare for a New Year's night in Russia. Then again, this is not a normal New Year's night. "Normal" disappeared 10 months ago when Russia launched a full-scale invasion of Ukraine.
There was nothing "normal" about Vladimir Putin's New Year address to the Russian people. For his annual speech the president normally stands alone outside the Kremlin. This year, standing behind him, were men and women in combat uniforms.
In his speech last year, the Kremlin leader pointed out that "New Year's Eve is literally filled with good cheer and happy thoughts".
Good cheer and happy thoughts were in short supply this time round.
President Putin used the address to promote the Kremlin's alternative reality: that in this conflict Russia's the hero and Ukraine and the West are the villains.
"For years, Western elites hypocritically assured us of their peaceful intentions…but in fact, they encouraged the neo-Nazis in every possible way," President Putin said.
"Defending our Motherland is the sacred duty we owe to our ancestors and descendants."
When the Kremlin talks about "defending our Motherland", keep in mind that it was Russia that invaded Ukraine. Not the other way around.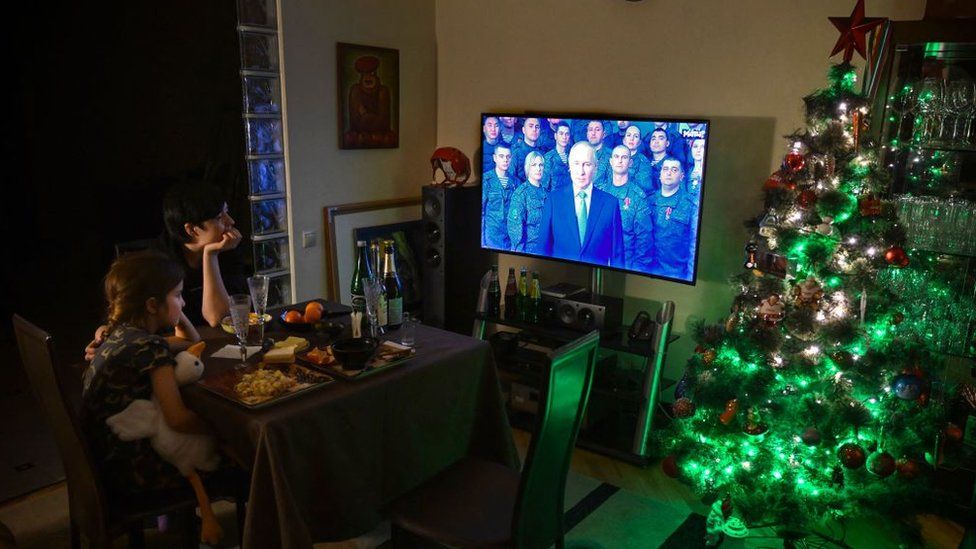 The Russian President claims his country is benefiting enormously from the dramatic events of 2022: "It was a year of… important steps towards Russia's full sovereignty."
"We lay the foundation for our common future, our true independence."
To put it mildly, it is confusing to claim that Russia is fighting in this conflict for its independence and sovereignty.
---
---
Russia has been a sovereign, independent country for a very long time. The question of why not arises even if you agree with Vladimir Putin's assertion that Russia has never attained "full sovereignty" Putin has been president for 23 years. You may think that is enough time to resolve that.
Putin also divides Russians into us and them, those who support his "special military operation" and those who do not, in his inauguration speech.
The Kremlin leader declared that the year "put many things in their proper perspective and drew a clear distinction between bravery and heroism, on the one hand, and betrayal and cowardice, on the other."
We can expect to see the Kremlin defining this line even more clearly in 2023. All of Russia's resources have been mobilized by the Russian government for the "special military operation."
There is no room for discussion or debate because the president is expected to be supported by the populace. Russians who refuse will be made to feel as though they are betraying their country.
---