George and Alfred Degiorgio both given 40-year sentences for killing of Maltese journalist in 2017 car bombing
the guardian
Two brothers charged with the car-bomb assassination of the Maltese journalist Daphne Caruana Galizia have both been sentenced to 40 years in prison, after dramatically pleading guilty to her murder on the first day of their trial.
Caruana Galizia, who had investigated political corruption in the European Union's smallest member state, died in an explosion that destroyed her car as she drove away from home on 16 October 2017.
George Degiorgio, 59, and Alfred Degiorgio, 57, were given 40-year prison terms, meaning three of the seven men so far accused of conspiring to commit the murder have now been convicted.
The trial in Valletta's central court, which has drawn international attention, began on Friday morning with both men denying all six charges laid against them, including wilful homicide, causing a fatal explosion, illegally possessing explosives and criminal conspiracy.
In an unexpected twist, after an extended midday break that followed a morning during which the prosecution set out its case, the brothers were ushered into the courtroom and asked to re-enter their pleas, the Times of Malta reported.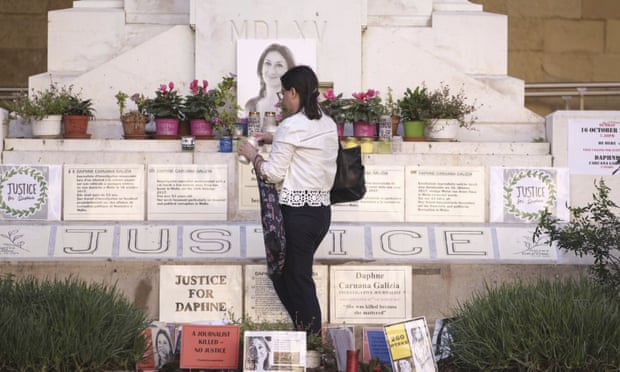 George Degiorgio stood before the judge, who asked him again: "How do you plead?"
In front of Caruana Galizia's three sons and her husband, he replied: "Guilty."
Alfred Degiorgio, who uses a wheelchair and is under medical supervision after going on hunger strike to protest against the prosecution, entered the same plea.
The judge told the court the two men had been examined by a doctor and a psychiatrist beforehand, to verify they were of sound mind and understood the implications of changing their legal position.
In proceedings that were being monitored by an array of international observers, with members from press and free speech groups including Reporters without Borders, the Committee to Protect Journalists and Article 19 seated on the benches, the brothers were each sentenced to four decades, although time served is likely to be reduced if they can show good behaviour.
Their accomplice Vincent Muscat, a member of the gang that planted the bomb, avoided a trial after earlier changing his plea to guilty and providing evidence for the prosecution. Muscat is serving a 15-year sentence.
Daphne's son Paul Caruana Galizia was the first family member to respond publicly. He tweeted: "A break in the clouds."
George Degiorgio requested to speak to the victim's family during a series of heated exchanges, but he was reportedly shouted down and forced to leave the courtroom. When Caruana Galizia's widower approached him, his brother got up from his wheelchair and said, "Now you will know the whole truth, whoever was involved either way."
In an attempt to negotiate a pardon in exchange for naming larger alleged conspirators, including a former minister whose identity has not been made public, the brothers had failed.
According to the prosecution, they were paid for a contract killing by a prominent Maltese businessman with connections to the government. That businessman, Yorgen Fenech, is accused and will face a different trial.
Fenech was charged with murder in 2019 after it was claimed that he ordered or encouraged the killing, incited another person to commit the crime, or promised to reward the murderer after the fact. He was charged with murder conspiracy as well. Fenech has pleaded not guilty to each and every accusation. His trial has not yet been scheduled.
Melvin Theuma, a taxi driver who admitted to being a middleman, received a presidential pardon in 2019 in exchange for testifying against Fenech and the other alleged conspirators. The trial for two men, Jamie Vella and Robert Agius, who are accused of providing the bomb, has not yet started.
Years had passed before the case finally went to trial due to defendants' attempts to have the case dismissed. They had submitted constitutional challenges, requested presidential pardons, and raised concerns about the fairness of the trial. They had protested against having to rely on legal aid attorneys, claiming it was a violation of their rights, and complained about not being able to find their own counsel.
Caruana Galizia, 53, a well-known newspaper columnist and magazine publisher, was also regarded as Malta's top investigative journalist. She disseminated her findings on her website, Running Commentary. She wrote in-depth articles about alleged corruption in business and political circles in the Mediterranean island nation, a popular financial haven.
Senior officials in the administration of the previous prime minister, Joseph Muscat, were among her targets. She accused them of forming offshore corporations in tax havens just days after taking office. However, she also went after the opposition. When she was killed, she was the target of political and online attacks, was being sued for libel in more than 40 cases, and her bank accounts had been frozen.
The car was sent off the road and into a field by the explosion of the bomb, which was hidden beneath the driver's seat.
A series of nationwide protests were started in 2019 after the arrest of Fenech, the heir to a real estate empire with connections to senior government figures, which ultimately led to Muscat's resignation.
The Caruana Galizia family has long fought for legal action and political reforms, and the president of the European Parliament, Maltese politician Roberta Metsola, declared that the fight must go on. She declared, "This is not justice." "Now for those who ordered it, paid for it, protected them, and spent years trying to cover it up," the speaker said.
---
READ MORE