Biden and Stoltenberg champion Erdogan's decision after more than a year of negotiations
By Caitlin McFall
---
In a surprising change of tune Monday, Turkish President Recep Tayyip Erdogan has apparently agreed to advance Sweden's bid for NATO membership announced NATO Secretary-General Jens Stoltenberg.
According to a NATO press statement Erdogan agreed take the ratification process to Turkey's Parliament for advancement as soon as possible.
"Sweden and Turkey agree today to continue their cooperation," the statement said after laying out the steps Sweden has taken to address Turkey's security concerns which have blocked Stockholm's accession into NATO for over a year. 
Stoltenberg called the move "historic" and President Biden championed Erdogan's decision.
"I stand ready to work with President Erdoğan and Türkiye on enhancing defense and deterrence in the Euro-Atlantic area," Biden said in a statement. "I look forward to welcoming Prime Minister Kristersson and Sweden as our 32nd NATO Ally. And I thank Secretary General Stoltenberg for his steadfast leadership."
The surprising announcement comes just hours after Erdogan said he would support Sweden's accession into NATO if Turkey was granted membership into the European Union. 
Erdogan has ardently stood in Stockholm's way since it first launched its bid over a year ago to join the now 31-member NATO alliance alongside Finland. 
But while Finland was given the green light in April to join the military bloc, Sweden has faced opposition from Turkey, and more recently Hungry, over Stockholm's lenient stance towards Kurdish individuals affiliated with the Kurdistan Workers Party (PKK), who Turkey perceives as "terrorists."
"I am calling from here on these countries that are making Turkey wait at the door of the European Union for more than 50 years," Erdogan said Monday ahead the NATO summit this week. "First, come and open the way for Turkey at the European Union and then we will open the way for Sweden, just as we did for Finland."
Under Erdogan's leadership Turkey has been attempting to join the European Union since 2005 during his first term as prime minister.
But the 27-member union has blocked its entrance over concerns relating to human rights and political turmoil, particularly following a failed coup attempt in 2016.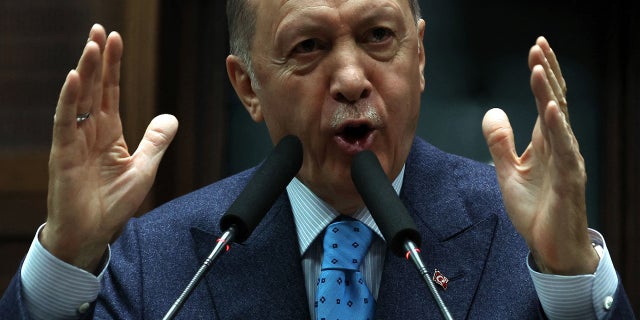 World officials have pushed back on Erdogan's demands pointing out that the E.U. and NATO are separate entities and are not tied to one another. 
"The accession process for each candidate country is based on the merits of each country," an E.U. spokesperson told Reuters. 
NATO Secretary General Jens Stoltenberg said that while he backs Turkey's membership of the E.U., he noted that Sweden already meets all the requirements to join NATO – the only hiccup being the unanimous consent needed from all member nations.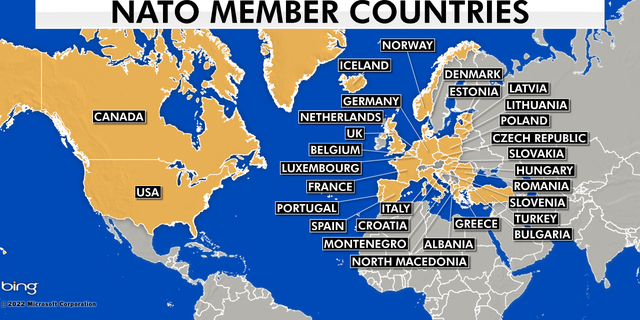 The U.S. State Department echoed these comments and said that though it too backs Erdogan's attempts to join the E.U., ultimately "they are separate issues."
"That is a separate question than the question about Sweden joining NATO," a State Department spokesperson told reporters Monday. "We think it's time for Sweden to join NATO, and we hope Turkey will support them."
Reuters contributed to this report.
---