By Hugo Bachega in Kyiv and Elsa Maishman in London
Russia is sending more troops into the key southern city of Kherson and may be preparing to defend it, Ukraine's spy chief has said.
Ukraine had previously suggested some Russian units might be leaving.
Russia took Kherson in the early days of the war, but has recently come under pressure as Ukrainian troops advance along the Dnipro River.
Russian authorities in the city have ordered thousands of civilians to evacuate.
Kyrylo Budanov, the Ukrainian intelligence chief, dismissed this as an "information operation", telling the Ukrayinska Pravda website Moscow was "trying to create the illusion that everything is lost".
The Russian military is sending in more troops and preparing the streets for defence, he said, adding that the removal of citizens is a pretence to save face in case the city falls to Ukraine.
This is a departure from Kyiv's earlier comments that the invading forces were leaving the city. "They are not preparing to exit now," he said.
The BBC has not verified the precise movements of either sides' troops on the ground. The suggestion that Russian troops are digging in raises the possibility of a fierce fight in the coming weeks.
In other developments:
Ukraine and its allies dismissed Russian claims Kyiv was planning to use a "dirty bomb", explosives laced with radioactive material
German chancellor Olaf Scholz promised to give Ukraine emergency help to rebuild damaged infrastructure ahead of winter
Romanian Defence Minister Vasile Dincu handed in his resignation on Monday, citing differences with president of the country, Klaus Iohannis, over the war in Ukraine. Mr Iohannis had previously criticised his defence minister for suggesting negotiation with Russia
Ukraine accused Russia of obstructing the grain deal between the two countries, by holding up 165 ships with "artificial delays" to inspections
Russian state broadcaster RT has suspended one of its top presenters, Anton Krasovsky, after he called for the burning and drowning of Ukrainian children
Ukraine has been advancing on Kherson since the start of October. It has reclaimed about 90 villages in the region, with a population totalling 12,000, according to its military.
Men would have the "opportunity" to join the militia units, according to the Kherson officials appointed by Russia on Monday.
Serhiy Bratchuk, a Ukrainian military spokesman in Odesa, asserted that this was merely a cover for enlisting local men in the Russian army.
Russian would suffer a severe setback if they lost in Kherson.
It serves as the capital of one of the four regions that President Putin tried to annexe after holding so-called referendums.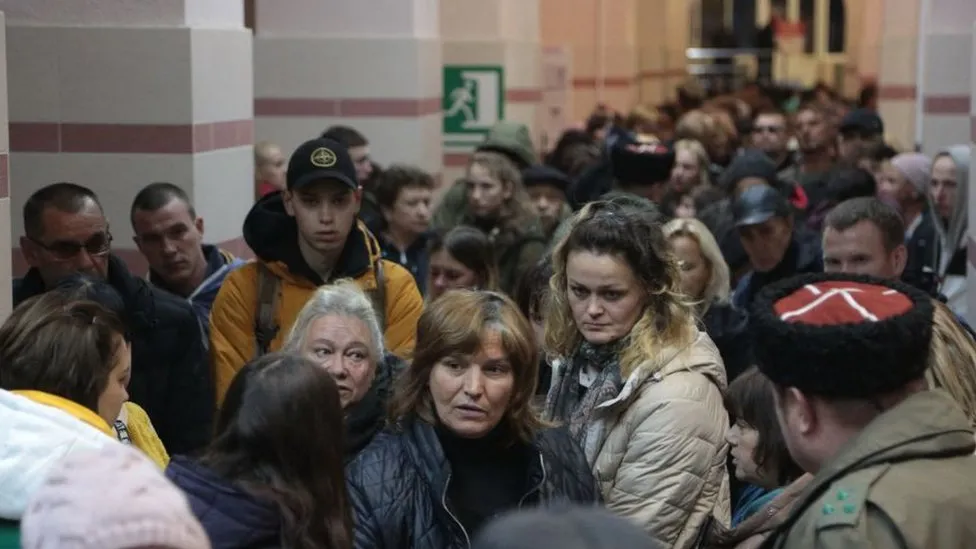 It is also the only regional capital which has been captured since the invasion in February, and is the only foothold on the west bank of the Dnipro river which runs through Ukraine.
And Kherson province controls the gateway to Crimea, annexed by Russia in 2014.
---