Donbas become epicenter in war in Ukraine amid brutal fighting and heavy losses
By Caitlin McFall 
The fight in the Donbas has become the epicenter of the war in Ukraine as Russia moves in special forces and Kyiv warns the next few months will prove "decisive" in the outcome of the war. 
In an assessment Thursday the U.K. defense ministry said Russia had likely redeployed some of the 76th Guards Air Landing Division of its elite airborne forces (VDV) to the front lines around Kreminna in the Luhansk region – some 50 miles north of where the most brutal warfare is taking place on the Soledar-Bakhmut axis in Donetsk.
Russia's VDV forces were deployed as "ground-holding" troops along the Kherson lines through November, according to the ministry.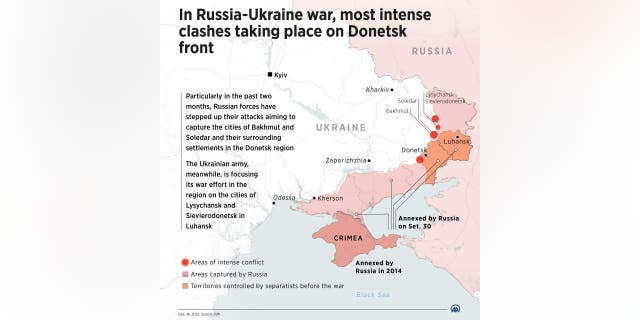 "Now redeployed to the Donbas and southern Ukraine, commanders are likely attempting to employ VDV more in line with their supposed doctrinal role as a relatively elite rapid reaction force," the ministry said.
Defense officials warned last week that Russia was looking to bolster its "vulnerable" defenses in Kreminna, which could threaten its right flank around Bakhmut.
The fight for Soledar, less than 10 miles northeast of Bakhmut, has drastically escalated in recent weeks after Russia employed its Wagner mercenary group on the city in an attempt to expand its eastward position in the Donbas.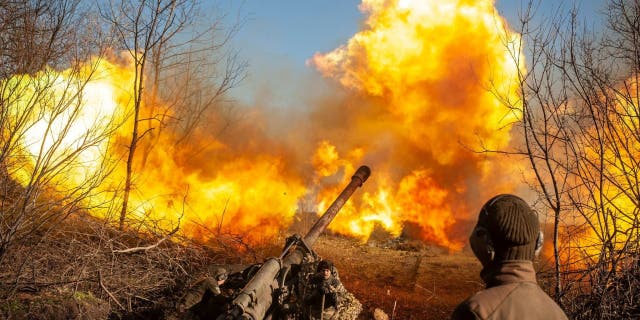 In response to claims made by Moscow on Wednesday that its forces had taken the salt mining town of Soledar, Ukraine's deputy defense minister Hanna Malyar said on Thursday that fierce fighting is still going on there.
Malyar claimed that although the enemy continues its assaults, it incurs heavy losses and is unsuccessful.
Yevgeny Prigozhin, the leader of the Wagner Group, claimed on Wednesday that his forces had completely seized Soledar and killed 500 Ukrainian soldiers.
---
---
In response, Moscow and its propagandists "are trying to pretend that some part of our city of Soledar – a city that was almost completely destroyed by the occupiers – is allegedly some kind of Russia's achievement," said Ukrainian President Volodymyr Zelenskyy.
"But the fighting continues. The Donetsk direction is holding out," he added.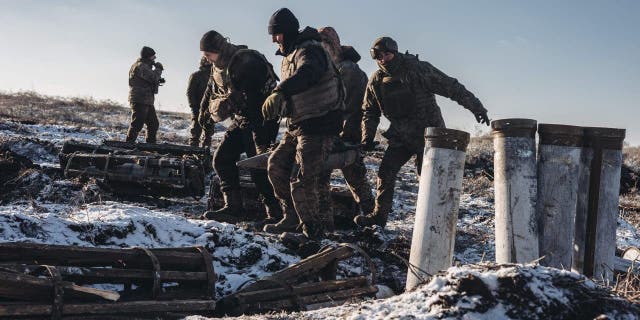 U.S. Secretary of Defense Lloyd Austin told reporters Wednesday that the situation was too "fluid" to make any assessment on battlefield gains at this time. 
Ukraine's secretary of the National Security and Defense Council, Oleksii Danilov, on Thursday warned that the deadly fighting is expected to ramp up even more as Moscow prepares for a major counteroffensive.
"The next two or three months will be very significant – and they will be almost decisive in this battle, for which we are preparing, and Russia, the aggressor, is preparing," he said according to a translation by Pravda. 
Kyiv has warned for weeks that Russia is planning a large-scale counterattack to try and secure territorial wins in Ukraine and end what has become an 11-month war of attrition. 
---