1,311 arrests were made overnight in France as nearly 45,000 police officers tried to control the nationwide riots, the interior ministry said
By Landon Mion
---
Rioters continued to take to the streets in cities around France for a fourth night in response to the police killing of a 17-year-old, only identified as Nahel M., on Tuesday.
The chaos continued into Saturday morning as 1,311 arrests were made across the country Friday night and 2,500 fires were reported, according to the interior ministry, who noted that there were fewer fires and attacks on police stations than the night before.
Despite the higher number of arrests compared to the 917 on Thursday night, the government suggested the violence was beginning to tamp down because of the deployment of 40,000 police officers on Thursday.
Though the massive presence of at least 45,000 officers Friday night didn't deter demonstrators as havoc remained across several cities, including Paris, Marseille, Lyon and French territories overseas. According to The Associated Press, a 54-year-old died after being hit by a stray bullet in French Guiana.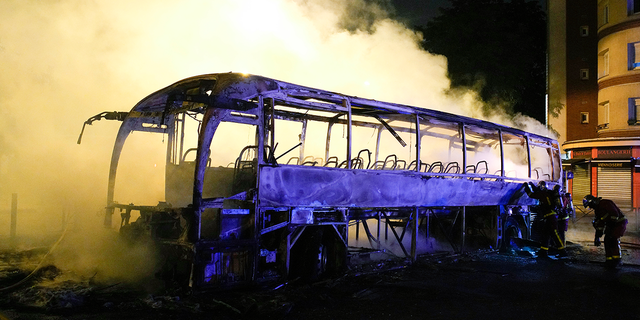 Hundreds of police officers and firefighters across the country have been injured during the four nights of riots, including an additional 79 overnight. The number of injured protesters has not been released by authorities.
Firefighters in the Parisian suburb of Nanterre extinguished fires set by demonstrators that scorched cars on Saturday, and in the neighboring town of Colombes, protesters overturned garbage bins to use them for makeshift barricades.
Looters broke into a gun shop Friday evening and ran off with weapons in the Mediterranean port city of Marseille, according to police. Officers arrested nearly 90 people in Marseille as protesters lit cars on fire and broke store windows to ransack items inside.
Protestors vandalized buildings in the eastern city of Lyon, where a third of the roughly 30 arrests made were for theft, police said. Authorities said there were fires in the streets after a protest of more than 1,000 people earlier Friday evening.
Violence was observed during the daylight on Friday despite government pleas for calmer demonstrations and stricter security. An Apple Store was looted in the eastern city of Strasbourg, where police ultimately fired tear gas. In a Paris-area shopping mall, the windows of a fast-food restaurant were smashed and officers repelled people attempting to break into a shuttered store.
On Friday, Interior Minister Gerald Darmanin ordered a nationwide nighttime shutdown of all public buses and trams, which have been targeted by rioters. Darmanin also said he warned social media platforms to not allow themselves to be used for calls to violence. 
French President Emmanuel Macron, who blamed social media for fueling violence, specifically called out Snapchat and TikTok as platforms being used to organize unrest, accusing them of serving as conduits for copycat violence. Macron also asked parents to keep their children off the streets.
The rioting was prompted by an incident on Tuesday in which a police officer shot and killed the teen following a pursuit. Police said he refused to pull his vehicle over and could have caused injury to others.
The unidentified police officer accused of killing Nahel was given a preliminary charge of voluntary homicide. Preliminary charges mean investigating magistrates strongly suspect wrongdoing but need to gather additional information before sending a case to trial. 
Nanterre prosecutor Pascal Prache said his initial investigation led him to the belief that the officer's use of his weapon lacked legal justification.
Nahel's mother told France 5 television that she was angry at the accused officer but not at the police in general.
"He saw a little Arab-looking kid, he wanted to take his life," she said via The Associated Press. "A police officer cannot take his gun and fire at our children, take our children's lives."
Family and friends will hold a funeral gathering for Nahel in his hometown of Nanterre on Saturday.
The Associated Press contributed to this report.
---