US drones were operating over Syria, conducting mission on Islamic State terror group
By Lawrence Richard
---
The United States military released new aerial footage on Wednesday that showed Russian fighter jets flying dangerously close to several U.S. drones over Syria.
U.S. Air Forces Central said the video of the incident shows Russian SU-35 fighters moving into the drone's flight path and setting off so-called parachute flares and forcing the MQ-9 Reapers to take evasive maneuvers.
Lt. Gen. Alex Grynkewich, commander of 9th Air Force in the Middle East, said three of the U.S. drones were operating over Syria, conducting a mission on the Islamic State terror group, when the Russian aircraft "began harassing the drones" after 10:30 a.m. local time.
"Russian military aircraft engaged in unsafe and unprofessional behavior while interacting with U.S. aircraft in Syria," he said, describing the actions as threatening to the safety of the U.S. and Russian forces. "We urge Russian forces in Syria to cease this reckless behavior and adhere to the standards of behavior expected of a professional air force so we can resume our focus on the enduring defeat of ISIS."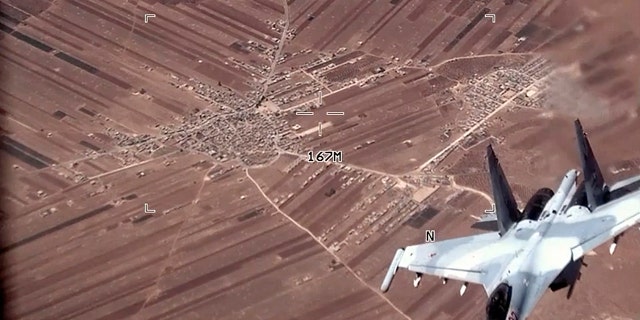 He did not provide specific information on their mission.
In a statement, Grynkewich said one of the Russian pilots moved their aircraft in front of a drone and engaged the SU-35's afterburner, which greatly increases its speed and air pressure.
Grynkewich said the jet blast from the afterburner reduced the drone operator's ability to safely operate the aircraft.
Army Gen. Erik Kurilla, head of U.S. Central Command, said Russia's violation of ongoing efforts to clear the airspace over Syria "increases the risk of escalation or miscalculation."
The U.S. maintains a force of about 900 troops deployed in Syria to work with the Kurdish-led Syrian Democratic Forces as they continue their struggle against Islamic State militants.
No other details about the drone operation were provided.
Information about where over Syria the incidents took place was also not provided.
The Associated Press contributed to this report.
---