The bloody battle to arrest Ovidio Guzmán came days before President Biden is set to travel to Mexico
By Andrew Mark Miller
More information about the violent killing of the son of infamous Mexican drug cartel leader Joaquin "El Chapo" Guzmán was made public by Mexican authorities on Friday.
Defense Secretary Luis Cresencio Sandoval gave a detailed account of the clashes that took place on Thursday during the arrest of Ovidio Guzmán and resulted in the deaths of 10 military personnel and 19 suspected Sinaloa drug cartel members.
A convoy of 25 cartel vehicles was then attacked by the army's Blackhawk helicopters, some of which had gun platforms firing at the helicopters.
After that, the cartel started firing at the military planes, forcing two of them to crash with "significant numbers of impacts" in each, according to Sandoval.
The gang then sent hordes of gunmen to attack fixed-wing aircraft, both military and civilian, at the city's international airport.
One civilian airliner was hit. The gunmen also shot up airport buildings in a bid to prevent authorities from flying the captured cartel boss out of the city. However, Sandoval said, authorities anticipating the resistance had loaded Guzmán onto a military helicopter to fly him back to Mexico City.
The running shootouts killed one Culiacan policeman and wounded 17 police officers and 35 military personnel.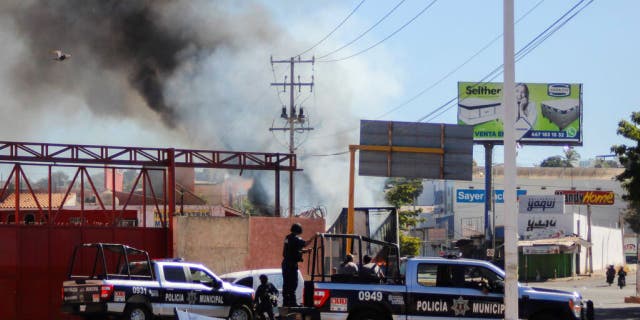 The violence became so heavy that Sinaloa Gov. Ruben Rocha said cartel members showed up at local hospitals attempting to kidnap doctors to take them back to the front lines and treat wounded fighters.
"It got to the point that at one moment, the doctors were saying, 'We're getting out of here,'" recalled Rocha, saying that police had reinforced security and convinced the doctors to stay.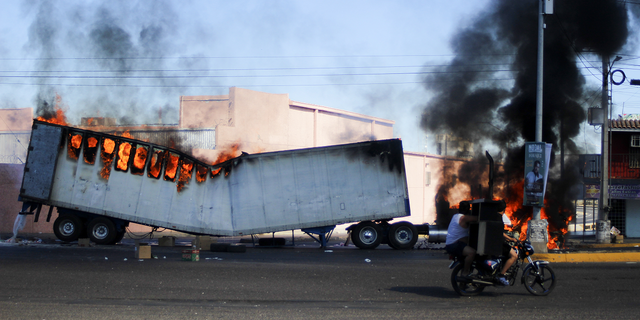 Guzmán was a leader of a Sinaloa faction he called "Los Menores" or "the juniors," who are also known as "Los Chapitos," for the sons of El Chapo. The elder Guzmán is currently serving a life sentence in a Colorado prison after being convicted on drug trafficking and organized crime charges. 
---
---
Ovidio Guzmán, nicknamed "the Mouse," had not been one of El Chapo's better-known sons until an aborted operation to capture him three years ago. That attempt similarly set off violence in Culiacan that ultimately led President Andrés Manuel López Obrador to order the military to let him go.
Guzmán was indicted by the U.S. on drug trafficking charges in 2018. According to both governments, he had assumed a growing role among his brothers in carrying on their father's business, along with longtime cartel boss Ismael "El Mayo" Zambada.
The six-month interagency investigation into Guzman concluded just days before President Biden is set to visit Mexico for the North American Leaders' Summit, which will include meetings with Canadian Prime Minister Justin Trudeau and Lopez Obrador.
The Associated Press contributed to this report.
---