Herzog said Israel and the US 'must act forcefully' to keep Iran from getting a nuclear weapon
By Anders Hagstrom
---
Israeli President Isaac Herzog called on the U.S. to act "forcefully" against Iran's efforts to obtain a nuclear weapon and reaffirmed his support for the independence of Israel's judiciary on Wednesday.
Herzog delivered a speech before a joint session of Congress on Wednesday, praising the long friendship between the U.S. and Israel before diving into points of policy. Welcomed to the chamber with raucous applause, the Israeli leader urged action on Iran, but acknowledged widespread protests within Israel against Prime Minister Benjamin Netanyahu's plans for judicial reforms.
"Allowing Iran to become a nuclear threshold state – whether by omission or by diplomatic commission – is unacceptable. The world cannot remain indifferent to the Iranian regime's call to wipe Israel off the map. Tolerating this call and Iran's measures to realize it, is an inexcusable moral collapse," Herzog said.
"Backed by the free world, Israel and the United States must act forcefully together to prevent Iran's fundamental threat to international security. I am here to reiterate what every Israeli leader has declared for decades: the State of Israel is determined to prevent Iran from acquiring nuclear weapon capabilities," he continued.
Herzog went on to reiterate his support for Israeli democracy. Netanyahu's push to reform the country's judiciary system has led to widespread and disruptive protests. The prime minister and his allies seek to strip Israeli courts of certain powers, such as the authority to strike down government decisions they deem "unreasonable."
"I will say to you, our friends, in English, what I have said to my people, to my sisters and brothers, in Hebrew: as a nation, we must find the way to talk to each other no matter how long it takes. As head of state, I will continue doing everything to reach a broad public consensus, and to preserve, protect and defend the State of Israel's democracy," Herzog said.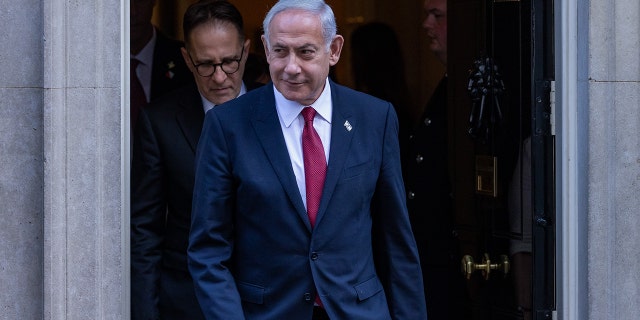 President Biden has held little back in his criticisms of Netanyahu's efforts, though Republicans have continued to pressure the White House to invite Netanyahu to the U.S.
Biden on Monday reached out to the Israeli leader to solidify a get-together at some point this year, though details have yet to be determined.
Biden told Herzog on Tuesday that he conveyed to Netanyahu that "America's commitment to Israel is firm and it is ironclad."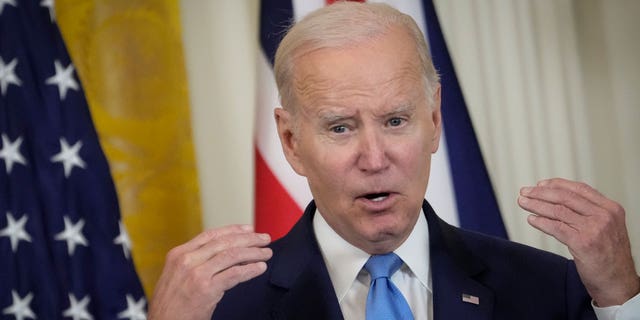 Herzog went on to praise the U.S. for continuing to facilitate peace between Israel and other nations in the Middle East. He specifically pointed to the Abraham Accords, negotiated under former President Donald Trump, and said Israel remains open to peace with any nation.
The leader's discussion of his country's conflict with Palestinians was more nuanced, however. He condemned terrorist organizations within Gaza and the West Bank, highlighting the rewards Palestinian terrorists receive for carrying out attacks in Israel.
"Palestinian terror against Israel or Israelis undermines any possibility for a future of peace between our peoples. Israelis are targeted while waiting for buses, while taking a stroll on the promenade, while spending time with their family. At the same time, successful terror attacks are celebrated, terrorists are glorified, and their families are financially rewarded for every Israeli they attack," Herzog said.
"The younger generation of Israelis and Palestinians deserve better. They are all worthy of a future to look toward, a future of peace and prosperity. A future of hope. I am wholeheartedly committed to this vision, a vision of hope and peace, true peace, without any terror," he added.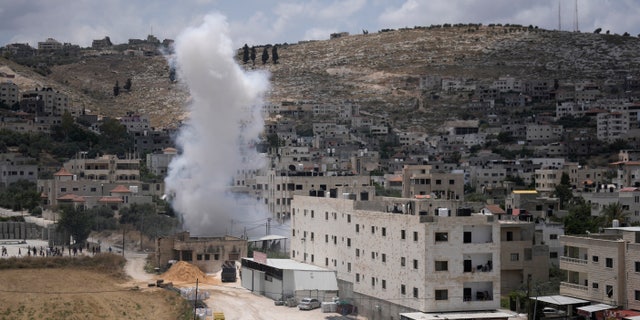 Herzog went on to acknowledge criticisms from U.S. members of Congress regarding Israel's treatment of Palestinians. While he says he respects the criticism, "especially from friends," he added that "one does not always have to accept it."
"Criticism of Israel must not cross the line into negation of the State of Israel's right to exist. Questioning the Jewish people's right to self-determination, is not legitimate diplomacy, it is antisemitism," he said.
Fox News' Benjamin Weinthal contributed to this report.
---