By Paul Adams
After almost eight months, the war in Ukraine hangs in the balance. Ukrainian counter-offensives continue to make progress, while Russian forces are still pressing elsewhere.
But on the internet, it's a very one-sided affair.
"This is a meme nation," says Olena, a Kyiv entrepreneur who manages teams of social media volunteers.
"If this was a war of memes, we would be winning."
Olena is not her real name. Due to the sensitive nature of the work she and her teams carry out on behalf of Ukraine's defence ministry, she has asked to remain anonymous.
Her teams work round-the-clock, reacting within hours to news from around the country, producing punchy videos, often set to music, for the ministry's audiences at home and abroad.
Just as Ukraine's President Volodymyr Zelensky tailors speeches to foreign parliaments to take account of local history, culture and sensibility, so Olena's five-strong international team target their messages.
A June video thanking Britain for its military assistance featured the music of Gustav Holst and The Clash, with glimpses of Shakespeare, David Bowie, Lewis Hamilton and a montage of British-supplied anti-tank weapons in action.
More recently, French President Emmanuel Macron's decision to supply Caesar self-propelled guns was greeted with a video which declared: "Romantic gestures take many forms".
DON'T MISS
Images of red roses, chocolates, the Paris skyline, followed by the guns in action, were set – perhaps inevitably – to the sound of Serge Gainsbourg and Jane Birkin's breathless Je T'aime Moi Non Plus.
With nods to a Macron-Zelensky bromance, it was suggestive and thoroughly tongue-in-cheek.
Olena says one of her favourite "thank you" videos praised Sweden for its value-for-money investment in Ukraine: $20,000 (£17,900) Carl Gustav rocket launchers, capable of knocking out Russian T-90 tanks worth $4.5m.
The tune? You guessed it: Abba's Money, Money, Money.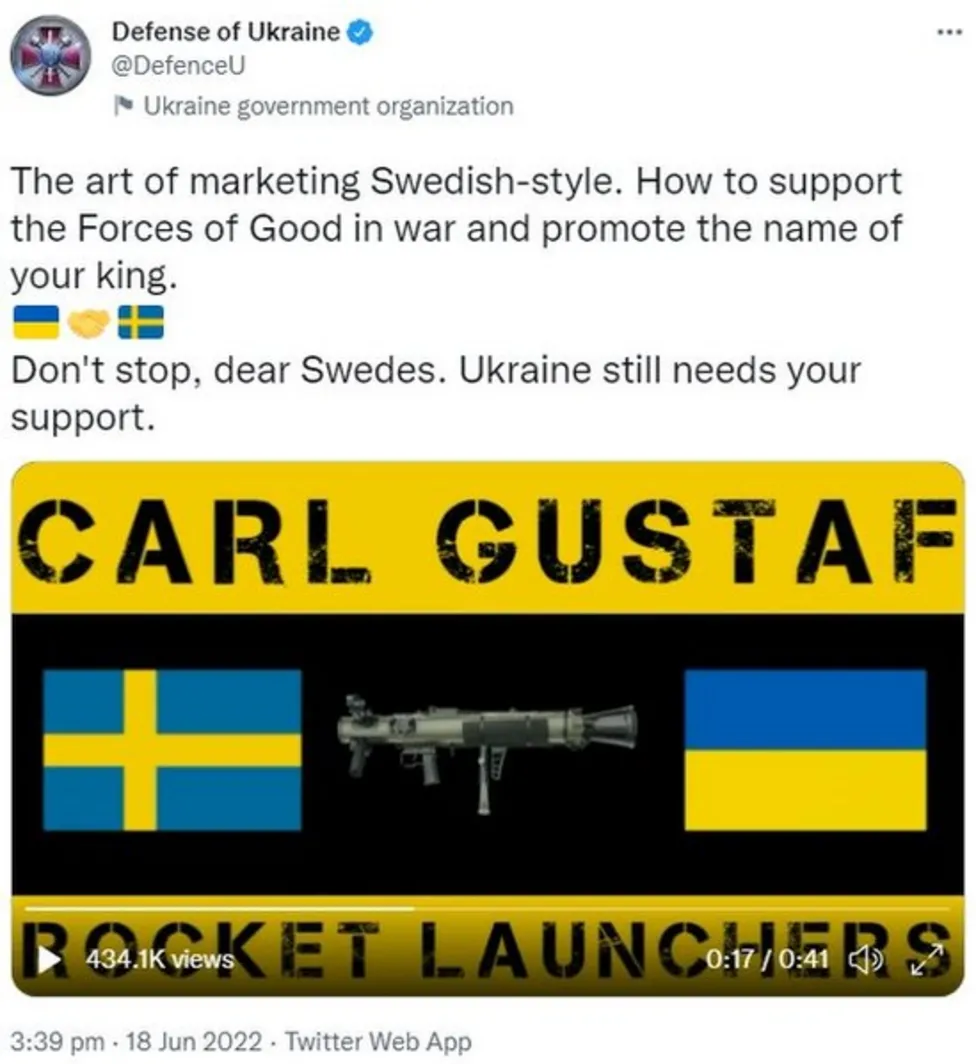 Thanks to the team's efforts, the defence ministry's Twitter feed now has 1.5m followers around the world. Some of the videos have been viewed more than a million times.
Their most successful video, released in August after several mysterious attacks on Russian targets in annexed Crimea, has racked up 2.2m views. It mocked Russians for going on holiday on the peninsula and was set to the Bananarama song Cruel Summer.
"The main idea is to speak to the international audience and show that Ukraine is actually capable of winning," she says. "Because nobody wants to invest in losers."
But another of Olena's teams carries out more subversive work, designed to highlight Russian losses and demoralise Ukraine's invaders.
Targeting Russian audience
The team has no shortage of material because social media is awash with videos showing Russian military failures. However, they have discovered what works and what doesn't through trial and error.
Olena claims, "We started displaying dead Russian bodies." "Then we realized that it didn't actually work. It did nothing but unite them against us."
The team then made an attempt to influence the Russian soldiers' consciences by displaying pictures of dead Ukrainian civilians. Once more, it seemed to be ignored.
"We discovered they were genuinely pleased with it. They did not in any way condemn this "she claims. We understood that a much more sophisticated approach was required.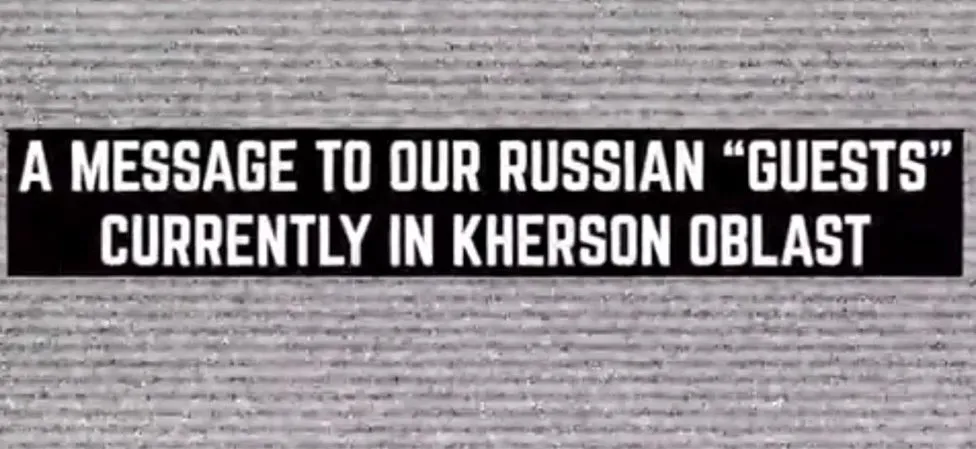 Now the volunteers scrutinise Russian social media platforms, looking to press buttons and probe weaknesses in specific parts of the country.
"If you do it in Saratov you have to know what's going on in Saratov," Olena says. "If you do it in Nizhny Novgorod, you have to know what's going on in Nizhny Novgorod."
It's extremely hard to gauge the impact this work is having, but Vladimir Putin's recent partial mobilisation has given the volunteers lots of material to work with.
"We were waiting for the mobilisation," Olena says. "We knew that it would be very demoralising for them."
The single richest seam of material is to be found on the messaging service Telegram. Olena calls it "the Wild Wild West".
The volunteers providing material for the defence ministry are just a small part of a vast, vibrant, fiercely patriotic and wildly irreverent community reacting to events on the ground, sometimes with amazing speed.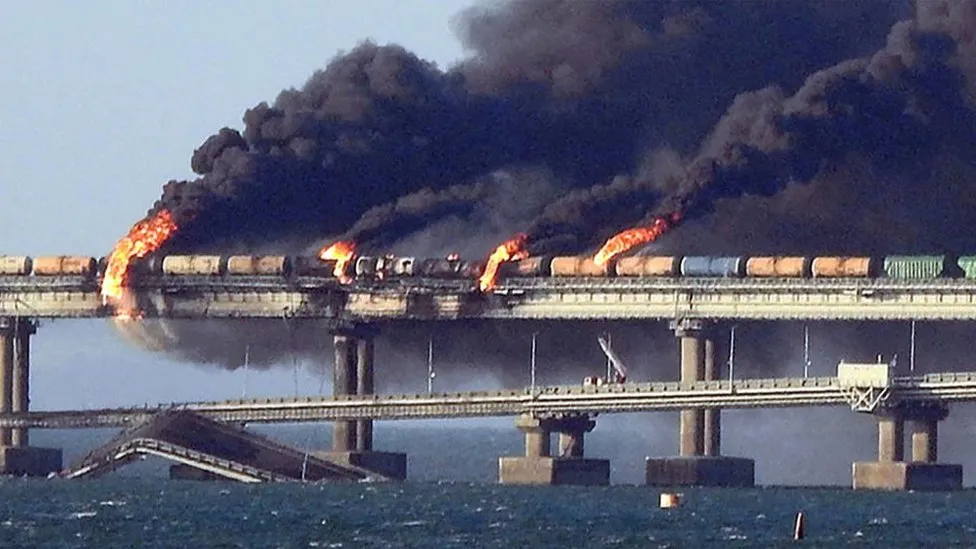 Numerous Telegram channels draw in sizable followings.
The "Ukrainian Offensive" one has 96,485 subscribers. Its tagline reads, "Since 2014, fighting on the civil-meme frontlines of the information war."
It offers a steady diet of military updates, outright satire of Moscow, and infrequent jabs at Western media coverage (including the BBC).
It doesn't hesitate to depict suffering, including images of dead or critically ill Russian soldiers, like the majority of other channels.
A tidal wave of videos, jokes, and memes were produced after the recent explosion on the Kerch Bridge connecting Russia with the occupied Crimea as Ukraine's internet army erupted in jubilation.
But the transformation into a nation of digital ninjas didn't happen over night. People have had plenty of time to hone their skills during the eight years of fighting in the eastern Donbas region, from countering disinformation to disseminating lighthearted content intended to boost morale.
---
READ MORE