Ukraine will take center stage at the 74th NATO Summit being held in Lithuania
By Peter Aitken
---
This week's NATO summit will prove key to Ukraine's future, with one expert saying anything less than a clear statement on a path for membership would prove a failure as Ukrainian President Volodymyr Zelenskyy makes a last-minute plea for an accelerated bid. 
"I believe that it is both reasonable and actually essential that Ukraine be given an accelerated path to NATO membership once hostilities have ended," Marshall Billingslea, Senior Fellow at the Hudson Institute and former Assistant Secretary General of NATO for Defense Investment, told Fox News Digital. 
"That includes, among other things, abandoning the requirement for them to go through a membership action plan," he explained, adding that it is "absolutely" important to make a further commitment on supplying Ukraine with the needed weapons to fight back Russia. 
The 74th NATO Summit occurs some 16 months after Russia invaded Ukraine, marking one of the most significant challenges to NATO in years, as member states debated how to support Kyiv without direct involvement and the threat of all-out conflict with Moscow. 
The U.S. invested $196 billion in total military, financial and humanitarian aid to Ukraine from Jan. 24 to Nov. 20, 2022, according to the Ukrainian government, with Germany second-most with $172 billion sent in the same period. 
U.S. Defense officials last week agreed to send an additional $800 million to Ukraine, along with controversial cluster munitions to provide an edge against Russia.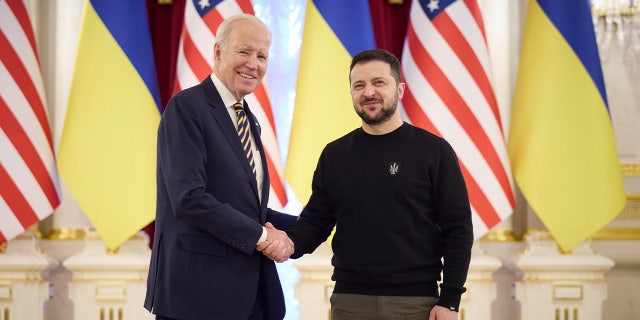 On Sunday, President Biden made it clear that NATO membership for Ukraine should remain of the table until the war ends, saying during a taped interview that aired Sunday that "I don't think there is unanimity in NATO about whether or not to bring Ukraine into the NATO family now, at this moment, in the middle of a war." 
"For example, if you did that, then, you know – and I mean what I say – we're determined to commit every inch of territory that is NATO territory," Biden said. "It's a commitment that we've all made no matter what. If the war is going on, then we're all in war. We're at war with Russia, if that were the case," he told CNN.
The statement appeared to unsettle Zelenskyy so much that he decided to attend the summit personally, arriving on Wednesday a day after things have gotten underway, so he can meet with NATO leaders and seek a clear path to join the alliance, Bloomberg reported. Zelenskyy is expected to meet Biden on Wednesday.
Lithuanian Minister of Foreign Affairs Gabrielius Landsbergis believes the summit can serve a vital symbolic purpose due to its proximity to Ukraine – even though Billingslea stressed that the members decide on meeting locations far in advance.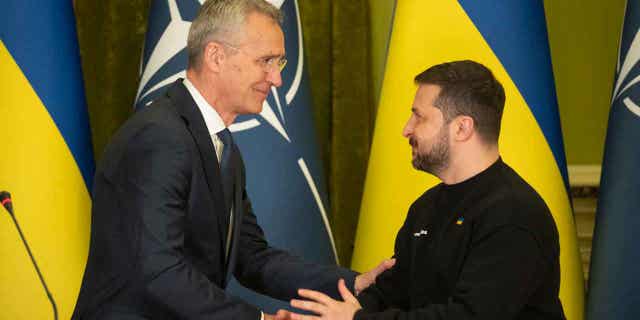 "The NATO summit in Vilnius is the one that takes place less than 50 km away from Belarus," Landsbergis told Fox News Digital." Vilnius is also the NATO capital closest to Kyiv. Not only geographically." 
"As hosts, we do want this summit to be historic in the most positive way," he explained. "For us, it means reassurance from the alliance to take the NATO threat assessment seriously – we expect allies to commit to the reinforcement of its Eastern Flank with a permanent presence of NATO 'boots on the ground.'"
"I also hope that all collectively we will have enough courage to provide Ukraine with a clear pathway to NATO," he stressed. "It is long overdue, and it is our duty to commit."
NATO Secretary-General Jens Stoltenberg said on Friday the member states "will agree a multi-year program of assistance to ensure full interoperability between the Ukrainian armed forces and NATO."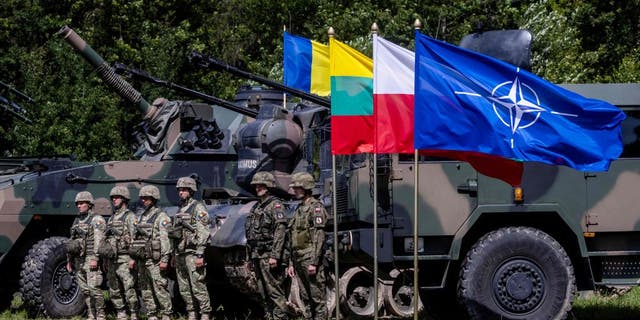 The summit will also address Sweden's troubled application, which started at the same time as Finland's own – but while Finland formally joined the alliance in April, Sweden's status remains in limbo due to resistance from key member Turkey. 
Landsbergis supported Sweden's bid, saying, "We also hope to hoist the Swedish flag in Vilnius. Membership for Sweden means more security for the Baltic region," but Turkish President Recep Tayyip Erdogan continues to raise strong objections over security concerns from Sweden.
Ankara had maintained that Sweden remains too lenient regarding groups that his country considers dangerous, such as militant Kurdish groups and people associated with a 2016 coup attempt. Hungary also opposes Sweden's candidacy but has never made clear the reasons for its objections. 
Bilingslea, who served in former President George W. Bush's Department of Defense, as well as former President Trump's Departments of State and Treasury, said he hopes Turkey can be persuaded to shift its position regarding Sweden.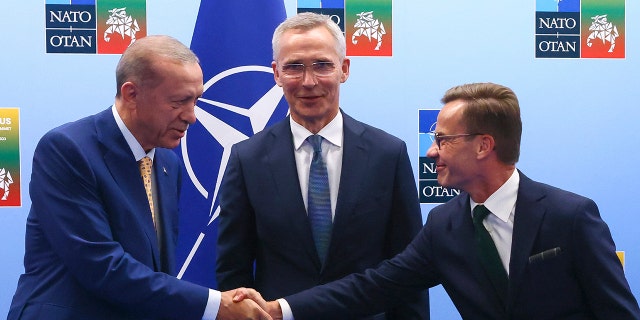 The summit could count it a huge win if Erdogan could "openly state he supports Sweden joining the alliance," with Hungarian President Viktor Orban following behind him, according to Billingslea. 
"The Swedes have, for their part, finally really started cracking down on the PKK, which is something they should have been doing a long time ago," he noted, adding that Turkey's complaints about Sweden harboring PKK terrorists "are not unfounded."
"So I believe Turkey's demands have been met by Sweden and with additional pressure from all of the allies, hopefully that will induce Erdogan to say the right things at the summit."
Erdogan on Monday tried to tie Sweden's NATO membership to Turkey's ascendancy to the European Union, saying, "Come and open the way for Turkey's membership in the European Union," and that "When you pave the way for Turkey, we'll pave the way for Sweden as we did for Finland." 
Later that day, Erdogan appeared to relent and finally agreed to advance Sweden's bid for membership. Stoltenberg announced that Turkey agreed to bring the matter before its parliament as soon as possible. 
"Sweden and Turkey agree today to continue their cooperation," the statement said after laying out the steps Sweden has taken to address Turkey's security concerns which have blocked Stockholm's accession into NATO for over a year. 
Biden welcomed the development, saying he stands "ready to work with President Erdogan and Turkiye" on enhancing defense and deterrence in the Euro-Atlantic area" and he looked forward to welcoming Sweden, all thanks to Stoltenberg's "steadfast leadership."
The summit will also address the thorny topic of China and the issue of member states not spending the required 2% of GDP on defense, which the bloc set as a goal for 2024. New estimates released Friday indicate only 11 of the 31 allies will reach the goal in 2023, though, Stoltenberg said good progress is being made. 
"In 2023, there will be a real increase of 8.3% across European Allies and Canada. This is the biggest increase in decades," he said, adding that European Allies and Canada will have invested over $450 billion extra since 2014.
The Associated Press contributed to this report. 
---