By Paul Kirby
---
A court in Brussels has found six men guilty of terrorist murder, more than seven years after suicide bomb attacks killed 32 people at the city's airport and a metro station in March 2016.
After a long trial and 19 days of jury deliberations, the court in Brussels returned their verdicts.
Several of those on trial had already been convicted of taking part in the Paris terror attacks months earlier.
Salah Abdeslam, 33, was arrested days before the Brussels bombings.
He was found guilty in France last year of the November 2015 Paris bomb and gun attacks in which 130 died.
Abdeslam had fled Paris for Belgium after the 2015 attacks and denied involvement in the bombings four months later. But the court in Brussels has now convicted him of murder and attempted murder in Brussels too.
Another of those now found guilty of both bombings, Mohamed Abrini, was identified on CCTV fleeing Zaventem airport when his explosives did not go off.
He became known as the "man in the hat" and was among a number of suspects arrested in Brussels a few weeks later. Unlike Abdeslam, Abrini had admitted his role in the attacks, confessing to preparing the explosives for the bombings.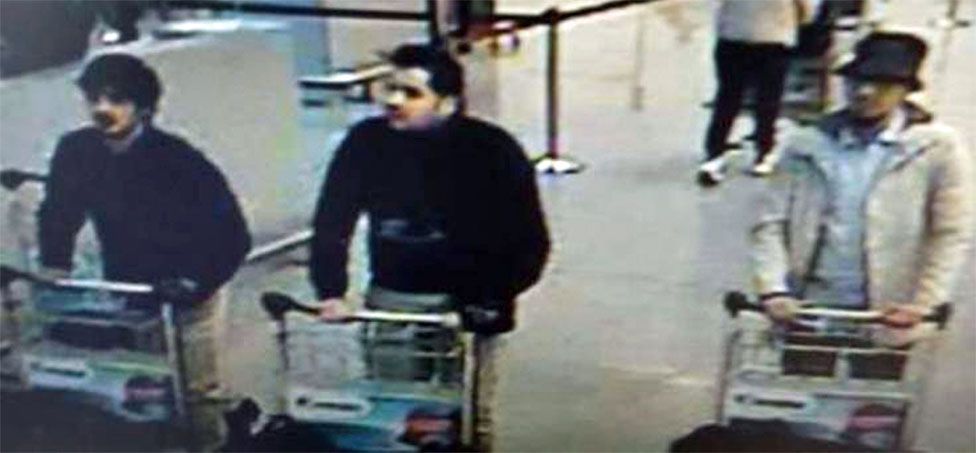 Four other men were found guilty of terrorist murder: Oussama Atar, Osama Krayem, Ali El Haddad Asufi and Bilal El Makhoukhi.
Krayem had been seen with the Metro bomber who blew himself up at Maelbeek. He too had a backpack full of explosives but did not detonate them.
But Oussama Atar, a Belgian-Moroccan jihadist thought to have planned the Paris attacks from Syria, was tried in absentia and is believed to have died in Syria.
Two men, a Tunisian and a Rwandan, were cleared of murder but were convicted of taking part in terrorist activities, along with the other six. The final pair, brothers Smail and Ibrahim Farisi, were cleared of all charges.
The attacks in Brussels took place within an hour of each other on 22 March 2016.
Two bombs went off shortly before 08:00 at opposite ends of the departures hall at Zaventem airport, leaving 16 people dead.
Then, little more than an hour later, a further blast happened on a train at Maelbeek metro station in Brussels' European quarter, close to EU institutions. Another 16 people died in that bombing. Hundreds more were wounded.
Mathilde Reumaux and her husband survived the metro bombing uninjured. She told BBC Newshour it was like "a war scene", adding: "We had to climb out of the windows of the metro, there were many bodies around us, people dead or injured."
They tried to help some of the injured, she said. "We did what we could, with the little knowledge we had of first aid."
She welcomed Tuesday's verdict and said "the jury was really focused during the past seven months, they listened to everyone, hundreds of persons who testified".
The court ruled that another three people who died in the years following the bombings should also be considered victims of the attacks, bringing the death toll to 35.
They included Shanti De Corte, 23, who suffered years of unbearable psychological illness before she died by euthanasia last year.
Xavier Legrand died of cancer in 2017 after being forced to halt treatment because of the wounds caused by the metro bombing.
Mathieu Fischer took his life in 2021 after suffering years of post-traumatic stress.
The judge told the court that had it not been for the bombings the three "would not have died, or at least not in the same circumstances".
---