By David Gritten
A 15-year-old girl died in north-west Iran last week after she was beaten by security forces during a raid on her school, a teachers' union has alleged.
Asra Panahi was one of several students injured in the incident in Ardabil, a statement posted by the Co-ordinating Council of Teachers Syndicates said.
They were attacked by security forces when they refused to sing an anthem praising the supreme leader, it added.
But officials rejected the report and state TV said Asra had a heart problem.
A number of teenage girls are reported to been killed since anti-government protests swept across Iran a month ago. Activists and relatives have blamed security forces for their deaths – something authorities have denied.
The unrest erupted after the death in custody of Mahsa Amini, a 22-year-old woman arrested by morality police in Tehran on 13 September for allegedly violating Iran's strict rules requiring women to cover their hair with a hijab.
Two weeks ago, schoolgirls began demonstrating in classrooms, playgrounds and on the streets, in an unprecedented show of support for the women-led protests against the hijab law and the clerical establishment.
Videos posted online have shown them waving their headscarves in the air, confronting male officials and shouting slogans including "Woman, life, freedom" and "Death to the dictator" – a reference to the Supreme Leader, Ayatollah Ali Khamenei, a Shia Muslim cleric who has final say on all state matters. Some have also been filmed tearing up photographs of the ayatollah.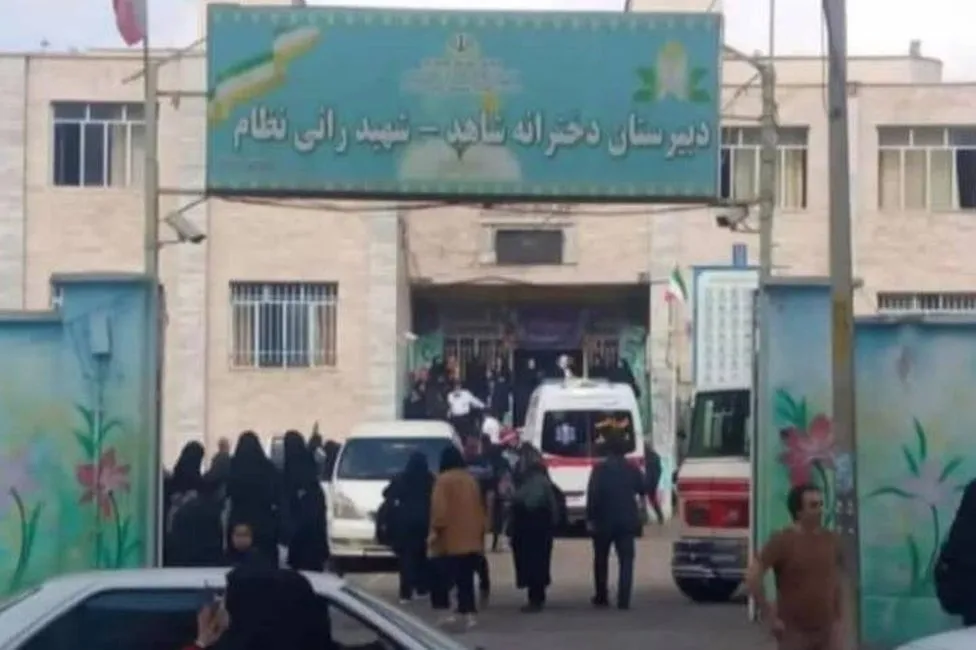 The Co-ordinating Council of Teachers Syndicates shared a statement from the Ardabil Teachers' Union on Telegram, accusing officials of forcibly forcing girls at Shahed High School in Ardabil to participate in a pro-government event on Wednesday and singing an anthem that honors the supreme leader.
The statement claimed that when some students began chanting against the government at the beginning of the event, male and female security personnel dressed in plain clothes were provoked and beat many of the students.
Later, after the students had gone back to class, they raided the building and beat some of the students once more, the report claimed. In addition, 10 people were detained and seven students were hurt.
According to the statement, Asra Panahi was one of those hurt and later passed away in a hospital.
Residents of Ardabil have been protesting since Saturday in response to her death. Videos that have been shared on social media show protesters throwing stones and a crowd chanting "Freedom, Freedom, Freedom."
State TV cited Asra's uncle as saying in an interview that she had underlying heart problems and that the cause of her death was cardiac arrest.
Relatives of two other teenage girls who have died during the recent unrest – Nika Shakarami and Sarina Esmailzadeh – gave similar interviews to state TV, repeating the official narrative that security forces were not responsible.
Ardabil's member of parliament, Kazem Musavi, meanwhile told the Didban Iran news site that Asra had taken her own life by swallowing pills.
The retired Iranian football star Ali Daei, who was born in Ardabil and has expressed his support for the protests, rejected both claims in a post on his Instagram account and challenged authorities to tell the truth. "History has proven who the liars are," he wrote.
The UN Human Rights Office has said it is deeply worried by the "unabated violent response by security forces against protesters, and reports of arbitrary arrests and the killing and detention of children".
"Some sources suggest that as many as 23 children have been killed and many others injured in at least seven provinces by live ammunition, metal pellets at close range and fatal beatings," spokeswoman Ravina Shamdasani said on Tuesday.
She added that a number of schools had also been raided and children arrested by security forces, while some principals had been arrested for not co-operating with security forces.
Last week, Iran's education minister also confirmed that an unspecified number of children had been sent to "psychological centres" after they were arrested allegedly for participating in protests.
---
READ MORE