Hunter Biden is expected to plead not guilty to felony gun charges
By Brooke Singman
---
Special counsel David Weiss said he opposes Hunter Biden's request to appear for his arraignment virtually, citing the "serious felony gun charges at issue" in the case. 
In a letter Tuesday to U.S. Magistrate Judge from the District of Delaware Christopher Burke, Hunter Biden's lawyers requested the first son's initial court appearance take place "by video."
They also said Biden intends to plead not guilty to the charges. 
President Biden's son was charged by Weiss with making a false statement in the purchase of a firearm; making a false statement related to information required to be kept by a federal firearms licensed dealer; and one count of possession of a firearm by a person who is an unlawful user of or addicted to a controlled substance. 
Weiss, in a court filing Wednesday, opposed Biden's request to appear via video for the court appearance. 
"The government opposes the defendant's request to hold a virtual initial appearance and arraignment on the indictment that was returned by a grand jury on September 14, 2023," Weiss said in a filing. "Fifteen months ago, the Court's standing order authorizing virtual proceedings during the pandemic expired."
"Given the serious felony gun charges at issue in this case, this Court should have an opportunity to assess the defendant in a live setting when discharging its obligations under 18 U.S.C. § 3142(f) and (g), and considering recommendations for conditions of release," he continued. "Accordingly, the government opposes the defendant's request for a virtual proceeding."
The opposition comes after Hunter Biden attorney Abbe Lowell pushed for a video conference, saying the first son is "not seeking any special treatment in making this request." 
"He has attended and will attend any proceedings in which his physical appearance is required," Lowell said.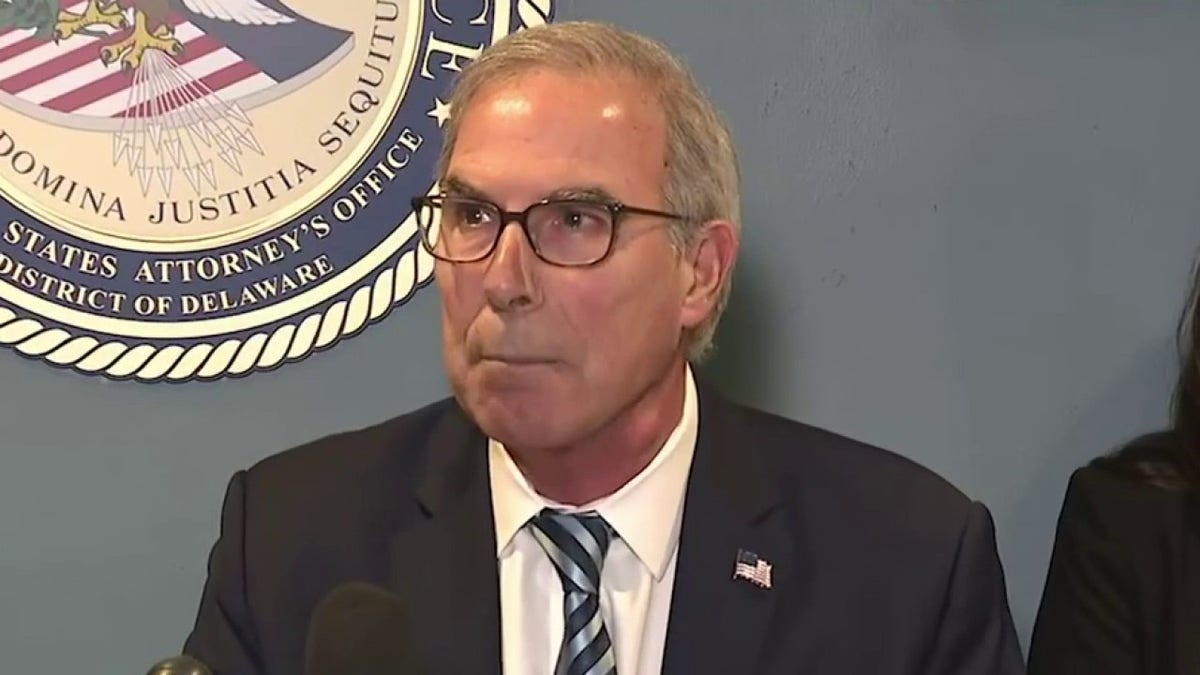 Lowell said that since Hunter's first court appearance in July — when an initial plea deal collapsed and he was forced to plead "not guilty" to two misdemeanor tax charges — the president's son "has scrupulously complied with his conditions since returning home to California (D.E. 15), and it is his expectation that those conditions will remain in place until the Court orders otherwise." 
Lowell also added that Hunter is seeking a video appearance "to minimize an unnecessary burden on government resources and the disruption to the courthouse and downtown areas when a person protected by the Secret Service flies across the country and then must be transported to and from a downtown location."
The federal gun charges are the first Weiss has brought against Hunter since being granted special counsel status. 
"Hunter Biden possessing an unloaded gun for 11 day [sic] was not a threat to public safety, but a prosecutor, with all the power imaginable, bending to political pressure presents a grave threat to our system of justice," Lowell continued. "We believe these charges are barred by the agreement the prosecutors made with Mr. Biden, the recent rulings by several federal courts that this statute is unconstitutional, and the facts that he did not violate that law, and we plan to demonstrate all of that in court." 
Fox News first reported in 2021 that police had responded to an incident in 2018, when a gun owned by Hunter was thrown into a trash can outside a market in Delaware.
A source with knowledge of the Oct. 23, 2018, police report told Fox News that it indicated that Hallie Biden, who is the widow of President Biden's late son, Beau, and who was in a relationship with Hunter at the time, threw a gun owned by Hunter in a dumpster behind a market near a school.
A firearm transaction report reviewed by Fox News indicated that Hunter purchased a gun earlier that month.
On the firearm transaction report, Hunter answered in the negative when asked if he was "an unlawful user of, or addicted to, marijuana or any depressant, stimulant, narcotic drug, or any other controlled substance."
Hunter was discharged from the Navy in 2014 after testing positive for cocaine.
Fox News' David Spunt, Bill Mears and Jake Gibson contributed to this report. 
---