Brush fires burning in sparsely populated, hilly areas southeast of Los Angeles
By Stephen Sorace
---
Multiple brush fires burning southeast of Los Angeles forced the evacuation of nearly 1,000 homes as firefighters work to contain the blazes in blistering heat and dry conditions.
The fires were all within 40 miles of each other in Riverside County, and firefighters worked over the weekend in temperatures that spiked into the triple digits in some areas.
The largest of the blazes, called the Rabbit Fire, has scorched 7,600 acres and is 5% contained, Cal Fire/Riverside County Fire Department said Saturday night.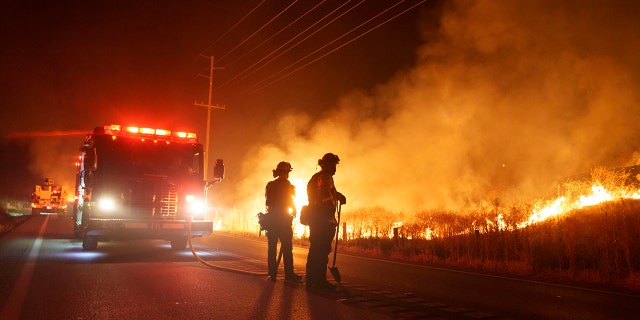 Other brush fires include the Highland Fire, which is 105 acres and 70% contained, the Reche Fire, which is 437 acres and 50% contained, and the Gavilan Fire, which is 250 acres and 25% contained.
"Heat is definitely a concern out there," said April Newman of the Cal Fire/Riverside County Fire Department, adding that the blazes were burning through dense, dry brush in rugged terrain.
Nearly 1,000 homes were under evacuation orders, but there were no immediate reports of injuries or property loss, according to officials.
Hundreds of firefighters were dispatched, along with firefighting helicopters and airplanes.
The cause of the fires remains under investigation.
The Associated Press contributed to this report.
---