'Troop mobilizations are sometimes a precursor to war,' Senator Rand Paul warns
By Houston Keene
---
Republicans blasted President Biden's decision to call up thousands of armed forces reserve members to bolster the troops for "the effective conduct" of a military operation.
On Thursday, Biden announced that his administration is mustering reserve troops to ensure the "effective conduct of Operation Atlantic Resolve in and around the United States European Command's area of responsibility."
The president is calling up 3,000 reserve troops from the Selected and Individual Ready Reserves, with no more than 450 from the Individual Ready Reserve.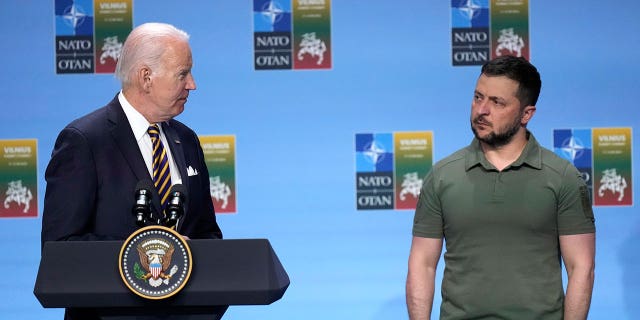 Biden's troop augmentation comes while the president is overseas for the NATO conference.
"This is reckless [and] dangerous," Texas GOP Senator Ted Cruz tweeted. "I want to see Putin defeated, but UNDER NO CIRCUMSTANCES should U.S. servicemen [and] women be sent to fight in Ukraine."
"Biden's weakness started this war [and] now he's threatening to put our military in a shooting war with Russia," Cruz added.
GOP Utah Sen. Mike Lee weighed in on the president's European mobilization in a Twitter thread, warning the move is "daring Russia to shoot first."
"I've been trying to figure out what this means. Bottom line up front: President Biden is arguably walking the U.S. up to the line of war and daring Russia to shoot first," Lee wrote.
Lee noted that Operation Atlantic Resolve has been ongoing since 2014 and that, under U.S. law, Biden can only augment troops in named operations for up to a full year.
"Open-source information on Operation Atlantic Resolve from DOD does not suggest any forces are present in Ukraine under this mission," Lee wrote. "Since conflict with Russia and Ukraine came to blows in 2014, rotational deployments under Atlantic Resolve have been considered a backbone of deterring Russia from crossing NATO's Eastern flank."
Lee also warned that the "active-duty activation and deployment of these additional forces is a dangerous provocation, knowing full well NATO's Eastern Flank is adjacent to active hostilities."
"President Biden did the same thing at the beginning of the war in Ukraine in 2022, massively increasing our active-duty force presence when we knew hostilities were imminent. But now it's even more risky because hostilities are active. Not only does this run the risk of further locking us into supporting Ukraine, now the military-industrial complex will say the US military presence is THE one thing preventing Russia from crossing NATO's eastern border & that we have to maintain such presence indefinitely."
One user asked Lee how the troop mobilization could be stopped, to which the senator replied that he is working "on that now."
"It's not easy and very controversial, but we might have to invoke the War Powers Act," he said.
"Troop mobilizations are sometimes a precursor to war," Kentucky GOP Senator Rand Paul warned. "Let's hope not."
Republican presidential candidate Vivek Ramaswamy published a press release on Friday saying it is "downright disturbing that U.S. media is ignoring that Joe Biden is ordering 3,000 members of the Selected Reserve or Individual Ready Reserve (IRR) to Europe 'for the effective conduct of Operation Atlantic Resolve.'"
"The last time there was an IRR call-up was during the Iraq War, when the justification then was nonexistent 'weapons of mass destruction' held by Saddam Hussein," Ramaswamy said.
"What is the justification now? What are the operations? Where will they go? What will they do?" Ramaswamy said. "We need answers, not sweeping this under the rug as Biden would prefer."
Ramaswamy noted that Biden's troop mobilization "comes just three days after the Biden White House told Congress it wants to remove a provision of the annual defense policy bill that would create a special inspector general for Ukraine aid."
"Why? What are we not supposed to know?" Ramaswamy added.
During a press conference Thursday in Vilnius, Lithuania, Biden reaffirmed the U.S. commitment to defend NATO allies in a heated exchange with a reporter.
"Peace and security in Europe is essential to U.S. security and peace," Bide said at one point. "The idea that there could be conflict in Europe among our friends and us not engaged has never happened in modern history. That's why we're staying together." 
The White House did not immediately respond to Fox News Digital's request for comment.
---