Ninti El-Bey, 50, belongs to a religious sect that claims it is exempt from local laws
---
A woman convicted of squatting in 2015 while claiming her religion protects her from eviction was evicted again last week in North Carolina in an incident where she is said to have punched a police officer.
After an eviction notice was put in place for Ninti El-Bey to be removed from an east Charlotte home in April 2022, WSOC-TV reported that she was finally forced out by police last week and punched an officer in the eye in the process, which led to her arrest.
Neighbors say that El-Bey, 50, had been terrorizing them for weeks.
"She's gone around the neighborhood a few times with a blow horn yelling at people to get off her indigenous property," neighbor Mike Kowalski told the outlet, adding that she "had a big witch's cauldron in the back she would burn."
El-Bey reportedly barricaded herself within the home and punched an officer in the eye when police tried to remove her. She was pepper sprayed and hid in a closet until police officers knocked down the door and arrested her.
"You know, maybe that's the thing that got her, she did that one dumb thing to swing at a cop," Kowalski said.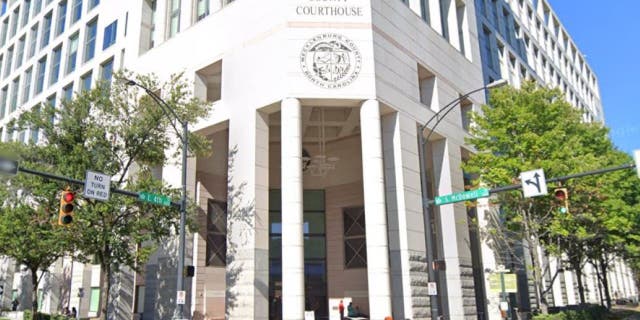 Kowalski added that El-Bey has flipped him the middle finger in the past and sprayed oil on his home. Another neighbor said El-Bey sprayed oil on another home and one of her family members.
"She said I'm going to burn you alive if you don't get away from me," Katy Ascencio Flores told the outlet.
Court records show that El-Bey was arrested Thursday and charged with first degree trespassing, resisting a public officer, and assault on a government official. 
In 2015, El-Bey and eight other people occupied a 5,200-square-foot home in the upscale Piper Glen and claimed her association as a Moorish foreign citizen meant that she did not need to adhere to the current state law, The State newspaper reported.
El-Bey is said to have moved into the previous foreclosed home, which sat in a cul-de-sac and had a tax value of just over $800,000, before immediately enrolling her children in school and picking them up at the bus stop each day.
El-Bey reportedly filed a lawsuit suing the police for crimes against indigenous people related to the previous home she was removed from.
---