'The left in general does not value merit,' activist Kenny Xu told Fox News Digital
---
The landmark Supreme Court decision handed down last week on affirmative action enraged media liberals and prompted sharp attacks on Asian Americans as tools of Whites and even White supremacists themselves.
"It now appears that Asians are 'white adjacent' rather than legitimate minorities. The work of civil rights advocates is to protect every individual, regardless of their race," Edward Blum, founder and president of Students for Fair Admissions, told Fox News Digital.
Former CNN host Soledad O'Brien told Asian Wave Alliance President Yiatin Chu, who celebrated the overturning of affirmative action, "Congrats on screwing over other people of color, ma'am! (Particularly those whose efforts in civil rights paved the way for your family to come to America!)." The Atlantic's Jemele Hill, another far-left personality, wrote to Chu, "Can't wait until [your daughter] reads that you gladly carried the water for White supremacy and stabbed the folks in the back whose people fought diligently for Asian American rights in America."
An NPR article Sunday that was panned by conservatives as an "embarrassment" framed Asians as instruments of a White conservative master plan to bring down affirmative action. In a piece not labeled opinion, the author referred to Asians representing the "model minority myth" and quoted liberal voices calling Asians a "mask for White privilege." Another voice said the "myth" of affirmative action harming Asian Americans was "rooted in anti-blackness."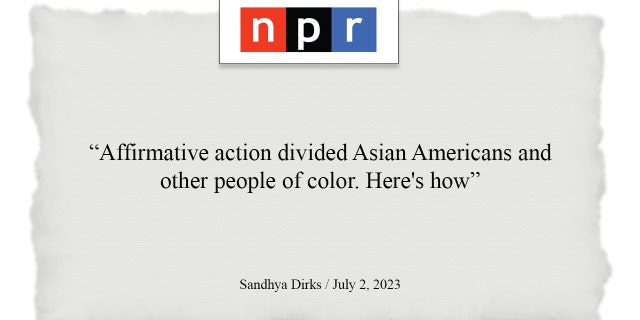 "Asians against Affirmative Action are not hard [to] find. You'd think they'd ask at least one to weigh in before proclaiming them dupes," podcast host Katie Herzog wryly tweeted.
NBC News also came out with an article last week right on the heels of the decision, quoting a left-wing Asian-American advocacy group that described the plaintiffs as "pawns" of the "White supremacist agendas behind these lawsuits."
The Supreme Court ruled that admissions policies at Harvard and the University of North Carolina violated the 14th Amendment, and Kenny Xu is a board member for Students for Fair Admissions, the plaintiff in the cases. Addressing the personal attacks against Asian-Americans who successfully argued affirmative action violated the Constitution, Xu assailed progressives as race-fixated.
"The left in general does not value merit," he told Fox News Digital. "So when you see a group that is successful, you have to explain it. And the left has created this explanation that, well, because Asian-Americans are successful in our country disproportionately, including higher than average education rates and income, they must be somehow aligned with White supremacy, right? Because the left's paradigm is White supremacy, so if you're successful, that means you have to be somehow associated with the rich, White, privileged elite."
The NPR article quoted extensively from liberal viewpoints to attack Blum, a conservative activist whose organization led the successful litigation in the cases against Harvard and North Carolina. The American Civil Liberties Union (ACLU) told NPR that Blum had a "long history of crafting attacks on civil rights." Blum, meanwhile, is celebrating a landmark legal victory over what he says was state-sanctioned racial discrimination.
"The ACLU's characterization of my activities is gravely mistaken," Blum told Fox News Digital. "Significant majorities of Americans of all races and ethnicities believe that one's race should not be a factor in college admissions, employment decisions, jury selection and many other areas of our lives. My legal activities are focused on restoring the original principles of the civil rights movement."
Blum befriended one of the parties to the suit, Harrison Chen, after the son of Chinese immigrants was rejected from Harvard in spite of near impeccable academic credentials. Blum took notice of Chen's writings at Vanderbilt University about what he deemed unfair standards, according to the Wall Street Journal.
The Supreme Court previously rejected Abigail Fisher, a White woman, in 2016 when she claimed the University of Texas hadn't accepted her due to her race, in another case led by Blum. Xu acknowledged "Asian faces being the plaintiffs" in the cases against Harvard and North Carolina was helpful to the cause, because it was "truthful."
"Our country isn't primarily Black and White anymore," he said, citing the country's diverse population and the polls showing large percentages of ethnic groups like Hispanics opposed affirmative action as well. "So in an increasingly diverse society in which you can't easily label people under privilege and oppressed groups, what's the best way forward? The best way forward is to treat people on the basis of merit, not their skin color."
At stake in the Harvard case was whether the university violated Title VI of the Civil Rights Act by discriminating against Asian-American applicants. The UNC case looked at that school's unwillingness to adopt a "race-neutral alternative." 
An ABC News/Ipsos survey found that 52% of Americans agree with the decision to overturn race based schools admissions, while 32% disapprove of the ruling.
The U.S. Supreme Court handed down its landmark ruling on affirmative action last week, rejecting the use of race as a factor in college admissions as a violation of the 14th Amendment's Equal Protection Clause.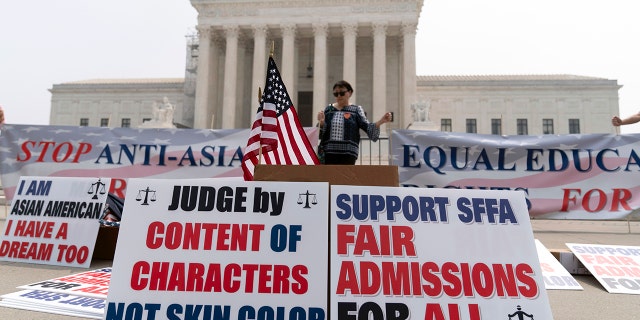 In a 6-3 decision, Chief Justice John Roberts wrote in the majority opinion that, "A benefit to a student who overcame racial discrim­ination, for example, must be tied to that student's courage and determination."
"Or a benefit to a student whose herit­age or culture motivated him or her to assume a leadership role or attain a particular goal must be tied to that student's unique ability to contribute to the university. In other words, the student must be treated based on his or her ex­periences as an individual—not on the basis of race," the opinion reads.
The justices decided two separate legal challenges over just how Harvard University – a private institution – and the University of North Carolina – a public one – decide who fills their classrooms.
These prominent schools say their standards have a larger societal goal, one endorsed for decades by the courts: to promote a robust, intellectually diverse campus for future leaders. But a coalition of Asian American students says the criteria discriminated with a "racial penalty" – holding them to a selectively higher standard than many Black and Hispanic students.
---