James Nott linked to Harvard Medical School trafficking ring, FBI alleges
By Michael Ruiz
---
A Kentucky man allegedly sold stolen human skulls and other body parts over Facebook to customers around the country and slept with a head in his bed, the FBI says.
Mount Washington, Kentucky, resident James Nott, using a profile under the name "William Burke," was allegedly advertising human skulls for sale as recently as June, federal court filings revealed this week. 
The FBI learned of Nott, 40, through its investigation into an illicit ring of human body parts traders linked to the Harvard Medical School through its former morgue manager, Cedric Lodge, according to an affidavit filed in the Western District of Kentucky.
Nott would ship anywhere except three states, according to screenshots of two of the posts. Tennessee, Georgia and Louisiana were apparently, "No go." One of the human skulls was advertised as having an "autopsy cut" and was missing a slice off the top.
While Nott allegedly concealed some of his activities using the pseudonym and by sending untraceable voice messages through Facebook rather than text, investigators said he used a PayPal account under his real name to receive payment for the human remains.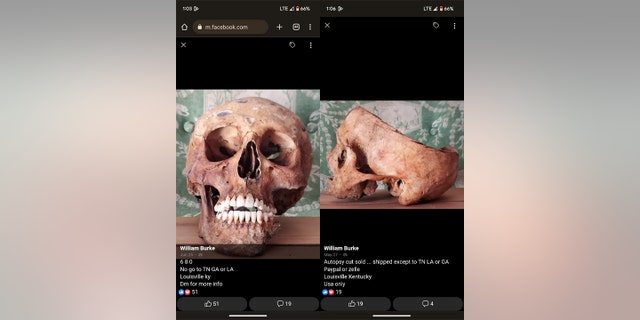 When the FBI arrived at his apartment to serve a search warrant Tuesday, he was the only person there, according to the affidavit. 
However, when agents asked him if anyone else was inside, he allegedly replied, "Only my dead friends."
"FBI agents located human remains including approximately 40 human skulls, spinal cords, femurs, and hip bones," the affidavit reads. "The skulls were decorated around the furniture."
One had been wrapped in a headscarf. They found another in Nott's bed.
Agents also found a Harvard Medical School bag in the home.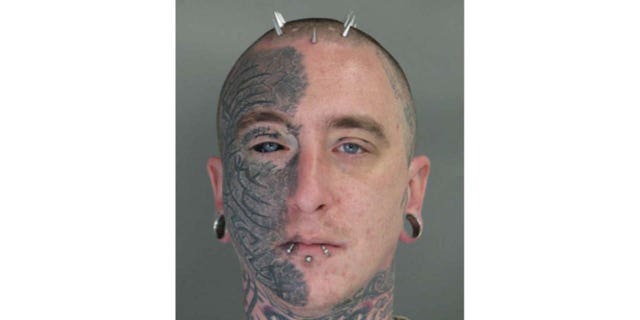 They also seized two rifles and a revolver, which as a felon, Nott could not legally own. The search also allegedly turned up bomb making materials and dozens of loaded AK-47 and .308 magazines.
Nott has been charged federally with possession of a firearm by a prohibited person.
It was not immediately clear if he would face additional charges, but Lodge and other suspects in the Harvard ring were hit with interstate transport of stolen goods and conspiracy charges last month. 
One of them, Jeremy Pauley, allegedly bought human face skin from Lodge for $600 and turned it into leather.
Pauley is now also accused of buying body parts from Nott.
"Yeah some of these prices are f—ing garbage out there," Pauley allegedly wrote to Nott in a Facebook conversation. "I don't mind paying up a little for shop stock. Makes things look good. How much total for the couple and the last video you sent plus the spines?" 
The Harvard Medical School called the conspiracy "an abhorrent betrayal" and fired Lodge in May.
"We are so very sorry for the pain this news will cause for our anatomical donors' families and loved ones, and HMS pledges to engage with them during this deeply distressing time," Harvard Deans George Daley and Edward Hundert said in a statement.
Nott was remanded without bail. His arraignment is scheduled for Aug. 4.
---