Taylor Taranto, 37, was arrested last week after live-steaming himself in Obama's Washington, D.C. neighborhood, federal prosecutors said
By Louis Casiano
---
A January 6 defendant who was allegedly found with weapons and materials to make an explosive device just blocks from former President Barack Obama's home in Washington, D.C. last week threatened to blow up a van at a government facility and attempted to threaten a congressman, federal prosecutors said Tuesday. 
Taylor Taranto, 37, a Washington state resident, was wanted for allegedly participating in the Jan. 6 riot when he was taken into custody by Secret Service agents on June 29 in the Kalorama neighborhood of Washington D.C., according to court documents. 
The arrest came a day after he live-streamed himself on his public YouTube channel when he said he had a detonator and threatened to blow up his "self-driving" vehicle at the National Institute of Standards and Technology, which is headquartered in Gaithersburg, Maryland, prosecutors said. 
"He made several statements indicating that he intended to blow up his vehicle at NIST, including a statement that he had a detonator, that he was on a 'one way mission,' and that the vehicle was self-driving so he would not have to be anywhere near it when it 'went off,'" prosecutors said in court documents. 
The FBI immediately began searching for Taranto. The agency had already been monitoring his online activities because of his presence on Jan. 6 in the U.S. Capitol, authorities said. 
On the day of his arrest, a federal judge issued a warrant for Taranto for his alleged Jan. 6 actions. That day, he began live-streaming again on YouTube from his van, saying he was driving on a road in the Obamas' neighborhood before exiting the vehicle, according to prosecutors.
"While walking, he made several concerning statements regarding the residences in the area, saying that he was looking for 'entrance points,' that he had 'control' of the block and 'had them surrounded' and that he was going to find a way to the 'tunnels underneath their houses,'" prosecutors wrote. "He also repeatedly stated that he was trying to get a 'shot' and that he wanted to get a 'good angle on a shot.'"
On the Telegram messaging app, Taranto allegedly wrote "We got these losers surrounded! See you in hell, Podesta's and Obama's," also referring to John Podesta, who served as the White Chief of staff during the Bill Clinton administration and as counselor to Obama.
He made several references to "the Podestas," saying he was trying to get an interview, prosecutors said. 
"Taranto's continued narration made it clear that he intended to access or enter the private residences of his subjects," courts documents said. "For example, Taranto panned the camera to show several sewer grates on the street – calling them 'entrance points,' and stating that the grates were an 'entrance' to reach 'them.'" 
Taranto was arrested by the Secret Service after a short pursuit. An FBI bomb squad and K9 unit from the Washington D.C. Metropolitan Police Department were called to the scene, where gunpowder was detected in his van. Investigators also found "hundreds of rounds of nine-millimeter ammunition and two firearms inside," prosecutors said. 
Days before his arrest, Taranto live-streamed himself and several others at a Takoma Park, Maryland elementary school walking around and using a projector to display a film related to Jan. 6. 
"In a livestream, where Taranto answered questions from his internet audience, he stated that he specifically chose the elementary school due to its proximity to Congressman (Jamie) Raskin's home and that he is targeting Raskin because 'he's one of the guys that hates January 6 people, or more like Trump supporters, and it's kind of like sending a shockwave through him because I did nothing wrong and he's probably freaking out and saying s–t like, 'Well he's stalking me,'" prosecutors said.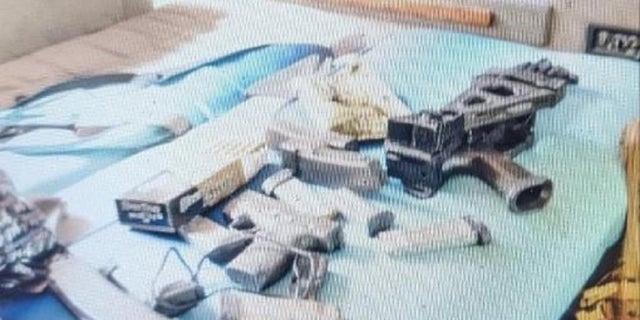 On June 28, he filmed himself making comments that referenced House Speaker Kevin McCarthy, saying, "Coming at you McCarthy. Can't stop what's coming. Nothing can stop what's coming." 
Prosecutors asked a judge to keep Taranto detained. He has not entered a plea on the Jan. 6 allegations. 
---