Jack White lashed out at Joe Rogan and Mark Wahlberg, who were also pictured with Trump at UFC 290
By Lindsay Kornick
---
Rock singer Jack White trashed celebrities Guy Fieri, Mel Gibson, Joe Rogan and Mark Wahlberg for interacting with former President Donald Trump during a UFC event in Las Vegas over the weekend.
After photos of all four of them attending UFC 290 at the T-Mobile Arena in Las Vegas, Nevada, with Trump on Saturday started spreading online, White took to his Instagram account to express his outrage.
"Anybody who 'normalizes' or treats this disgusting fascist, racist, con man, disgusting piece of sh*t Trump with any level of respect is ALSO disgusting in my book," White wrote Monday. "That's you Joe Rogan, you Mel Gibson, you Mark Wahlberg, you Guy Fieri. This is a statement from me, not a discussion/debate. -Jack White III."
He also posted photos of each of the men crossing paths or speaking with Trump at a UFC fight.
One of White's photos, however, actually depicted Gibson at a 2021 UFC event. That image of Gibson went viral at the time for allegedly showed him saluting the former president.
Trump ally Roger Stone confirmed that Gibson attended the event on Saturday and shared a photo of the three speaking.
"Shooting the sh*t with @realDonaldTrump and #MelGibson at the UFC fight in Vegas," Stone tweeted.
Trump advisor Steven Cheung also posted a video of Trump shaking hands with Rogan during the event.
Senior Trump advisor Jason Miller later shared an image of Gibson and Wahlberg at the UFC fight showing their proximity to the former president.
"The second and third most-famous stars in Las Vegas tonight!" Miller tweeted.
Miller also posted an image of Trump talking with Fieri during that night.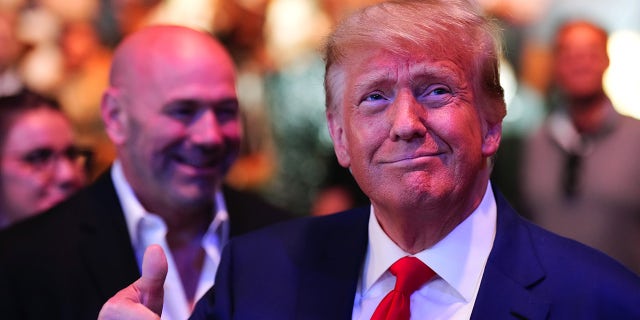 Though Fieri has rarely made political comments, the celebrity chef recently appeared on "Fox & Friends" to discuss the impact of inflation on the restaurant industry.
Trump has attended multiple UFC events both before, during and after his tenure as president. At these fights, he has been spotted with multiple celebrities including former heavyweight champion Mike Tyson.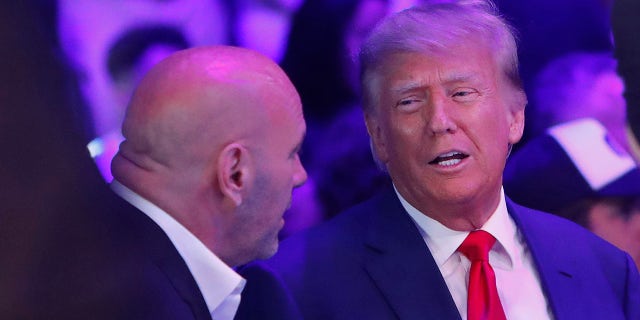 During the fight on Saturday, South Africa's Dricus Du Plessis jumped over the cage after winning his bout with Robert Whittaker in the middleweight division to shake Trump's hand as well as UFC president Dana White's.
---