'Newsom's underlying goal is undoubtedly self-promotion,' Doug Schoen says of the California governor's recent trips with Biden
By Kyle Morris
---
California Democrat Gov. Gavin Newsom "wants to run for president in 2024" but is backing President Biden ahead of next year's presidential election to garner support for himself, according to a prominent Democratic pollster and consultant.
In a recent op-ed for the Orange County Register, Douglas Schoen, who served as an adviser to President Clinton and as a pollster for the presidential campaign of Michael Bloomberg, argued that Newsom's goal in traveling to different parts of the country with Biden is all about "self-promotion."
"Gavin Newsom wants to run for president in 2024, that much is clear. The California governor would not be campaigning for President Joe Biden in red states with 16 months until the presidential election if he wasn't trying to prove his own political bona fides and build a future base of national support for himself," Schoen stated.
"Last week, Newsom traveled to Idaho, where registered Republicans outnumber Democrats by more than four to one, and is reportedly planning to visit other politically similar states, like Montana and Utah. The ostensible purpose of these trips is to tout Biden's accomplishments and shore up enthusiasm for the Democratic Party, but Newsom's underlying goal is undoubtedly self-promotion," he added.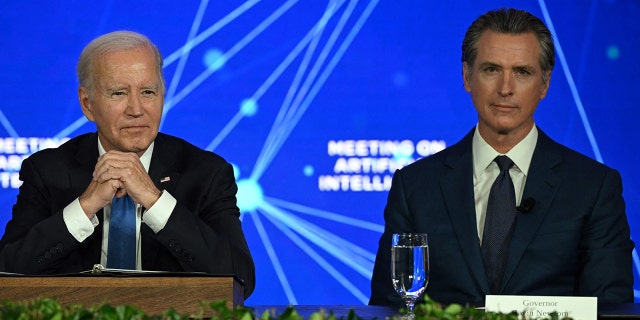 Schoen, who has more than 40 years of experience as a pollster and political consultant, suggested that Americans "shouldn't assign much weight" to Newsom's claim that he has no interest in seeking the White House.
"The governor's intentions are easily discernible, despite his claims to the contrary. Newsom has insisted that he has no interest in seeking the presidency, but we shouldn't assign much weight to these claims," he wrote. "Actions speak louder than words, and Newsom's actions strongly suggest that he is trying to put himself on the radar of Democratic donors and elites if, for whatever reason, Biden does not seek a second term."
Schoen also suggested that the "main challenge" for Newsom – should Biden announce he will not seek re-election – would be that "Biden would want to wait as long as possible before becoming a lame duck president."
"If Biden were to step aside because of his age, health or standing in the polls, it would likely be late in the process, perhaps December of this year or even January of next year, one month before primary voting would begin," Schoen noted. "If that were the case, it would be particularly difficult – but not impossible – for Newsom to enter the primary contest against the likely nominee and would-be front-runner, Vice President Kamala Harris."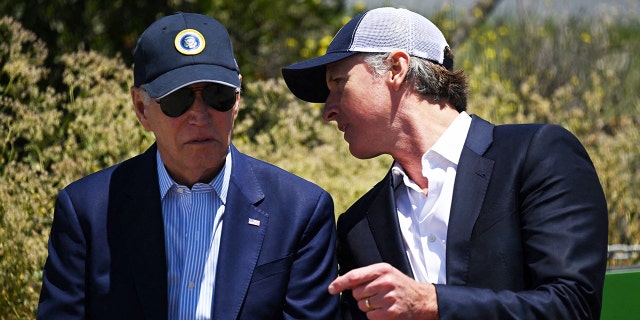 But that doesn't mean Newsom couldn't swoop in and attempt to pick up support from Democrats around the country, Schoen said, pointing to Harris' low approval ratings.
"Democratic elites and donors are skittish over the prospect of Harris at the top of the ticket, and with good reason," he said. "Her average approval rating is even lower than Biden's, as approximately 39% of voters approve of Harris, compared to 41% for Biden, according to FiveThirtyEight's aggregation of recent polls."
"Newsom well understands the dilemma Democrats find themselves in. The incumbent president is vulnerable and his natural successor is a vice president with no discernible accomplishments from her time in office," he added. "With Trump likely to clinch the Republican nomination – unless his legal challenges preclude him from running – Democratic voters will be eager for an 'electable' nominee who is established nationally and has the infrastructure to mount a last-minute campaign. Enter Newsom."
As for how Newsom would fare in a general election against former President Donald Trump or another Republican, that remains, in Schoen's opinion, an "open question."
"On one hand, Newsom is young, charismatic, a political force, and the governor of a large state who handily survived a recall election. He has also swung to the center to reject the far-left's agenda in his state, including the reparations task force proposal, which would have cost taxpayers billions of dollars when the state is already on the precipice of budget deficit, per the CalMatters Organization," Schoen noted. "That being said, California is still far to the left of the country, and Newsom's tenure has been mixed. He has presided over a surge in homelessness and an affordability crisis, and 4-in-10 Californians have reportedly considered leaving the state, per recent PPIC polling."
Newsom has previously said he supports Biden's re-election campaign. In April, Newsom raised money for Biden during a fundraiser in Washington shortly after the president announced his re-election campaign.
---