Dr. William B. Allen chided critics who are too quick to malign the curriculum, saying, 'It's only those who don't take the time to read it who will misstate it'
By Alexander Hall
---
An academic who helped craft Florida's African American history curriculum called out Vice President Kamala Harris for mischaracterizing the course material in interview footage ABC News left on the cutting room floor. 
The Florida Board of Education recently approved a new curriculum for African American history, with a section on how "slaves developed skills which, in some instances, could be applied for their personal benefit" drawing heavy criticism.
Harris condemned this line in a recent speech, declaring that "they decided middle school students will be taught that enslaved people benefited from slavery. They insult us in an attempt to gaslight us, and we will not stand for it."
The former chairman of the U.S. Commission on Civil Rights and Florida's African American History Standards Workgroup member, Dr. William Allen, told ABC News Harris completely mischaracterized the curriculum with a "categorically false" assessment. 
However, the network didn't air those comments on Saturday's "ABC World News Tonight." Only a small segment from Allen's interview aired, when he defended the controversial line, "It is the case that Africans proved resourceful, resilient and adaptive, and were able to develop skills and aptitudes which served to their benefit both while enslaved and after enslavement."
Florida Gov. Ron DeSantis' press secretary Jeremy Redfern shared several more minutes from Allen's interview with ABC News in a series of tweets, highlighting Allen's response to Harris.
"Yesterday, @abcnews aired a very small section of their interview with a member of Florida's African American History Standards Workgroup, Dr. William B. Allen. Here's more of the interview, where Dr. Allen debunks @VP's narrative and calls her criticism 'categorically false,'" he said.
"The only criticism I've encountered so far is a single one that was articulated by the vice president and which was an error," Allen told ABC News according to the audio Redfern released. "As I stated in my response to the vice president, it was categorically false."
He then went on to claim the course is not portraying slavery as beneficial in itself, but rather how African Americans managed to prove themselves adaptable and resilient in a time of crisis.
"It was never said that slavery was beneficial to Africans," he noted. "What was said, and anyone who reads this will see this with clarity, it is the case that Africans proved resourceful, resilient and adaptive and were able to develop skills and aptitudes which served to their benefit, both while enslaved and after enslavement."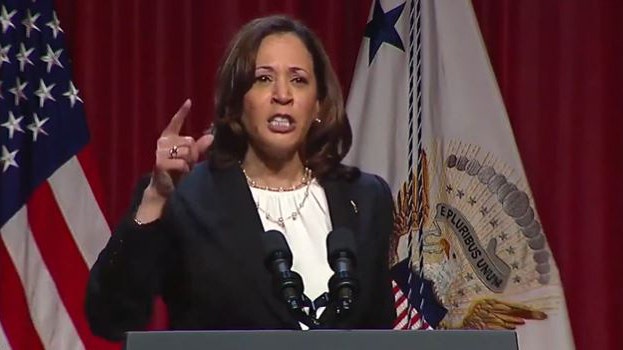 When the interviewer asked if the wording should be amended amid all the controversy and confusion, Allen cited his own ancestry and firmly said it should not be changed.
"I do not. No. I think it would be effectively to erase people's history. Let me illustrate that for you, if I may," Allen said. "My great-grandfather is someone who came from the islands and who was enslaved here and whose own resourcefulness, resilience, and adaptiveness was certainly instrumental in producing for his family, his descendants, the ability to prosper here in this country."
He then emphasized his point by calling back the wording of the curriculum, "Hence, from his resourcefulness, we derive benefits. I think anyone who would try to change that language would be denying that great-grandfather Cidipus made any contribution. I certainly could not endorse doing that."
He later restated his assertion that the course material focuses on resilience and adaptability in the face of oppression, rather than submission to it.
"We're talking about the experience of oppression and how people respond to the experience of oppression, and we want people to recognize that there's an opposite to Stockholm Syndrome. People don't necessarily simply embrace their oppressors when they're oppressed. They also react adaptively and they find ways to make pathways for themselves even in the presence of oppression," he said. "That's what calls upon their resourcefulness, their resilience and their adaptability."
As the interview came to a close, he took another swipe at Harris for making such claims while purportedly not having read the actual course materials. 
"I just want to foster and encourage everyone to take the time to read, or as I said in my response to the vice president, I think every intellect can understand the language written there if people only take the time to read it," he said. "It's only those who don't take the time to read it who will misstate it."
---