Dylan Hubbard, who co-owns a Florida marina, joined 'Jesse Watters Primetime'
By Charles Creitz
---
The $200 billion Gulf Coast recreational fishery is poised to take a hit if a Biden administration proposal aimed at saving an endangered whale is adopted by the National Oceanic & Atmospheric Administration, one fisherman said Tuesday.
Capt. Dylan Hubbard — who co-owns a marina in Pinellas County, Fla. — said the proposal amounts to crushing levels of regulation with no expected empirical improvement.
"This current petition is proposing a 10[-kts] speed limit over a wide swath of our eastern Gulf of Mexico, an area in which 50 million angler trips are occurring," Hubbard said of the potentially affected area, which stretches along nearly 500 linear miles from the Florida-Alabama line to Tampa.
"A lot of people access the fishery — our economy, the whole southeast region is driven by recreational boating — and it's a $214 billion industry, and this has a huge impact proposed, and basically closing an area from 100 to 400 meters deep, or about 300 to 1,300 ft."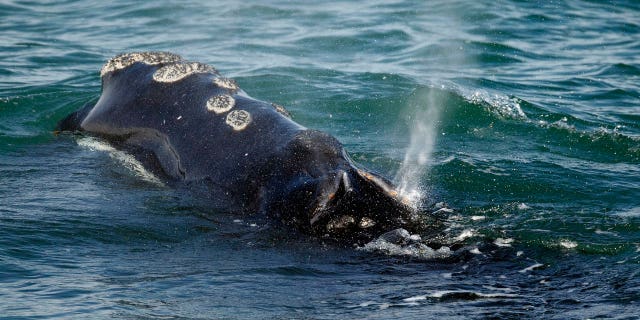 Hubbard told "Jesse Watters Primetime" the proposal also effectively banishes nautical transit after dark, requiring "visual observers [and] a lot of arduous regulations for really no purpose whatsoever."
"The petition is just absolutely asinine that it's even being considered, and it's crazy that it's gotten this far," he said.
In May, the NOAA regional office in St. Petersburg began soliciting public comment on a Gulf-centric proposal focused on Rice's whale, which according to its website took a 22% hit to its population following the 2010 Deepwater Horizon oil spill, while also expressing concern about vessel strikes.
In the case of the North Atlantic right whale, however, Hubbard said a juvenile collided with and sunk a 54-foot boat, in addition to the mammal being maimed.
"We're going to avoid hitting a whale anyway because we don't want to cause injuries to our vessel or our passengers, so don't shut down an industry and shut down access to our vibrant fisheries for this absolutely ridiculous rule when, in fact, we don't even know if the whales can recover," he said.
"The population size is only at 51 individuals, and NOAA itself says that it has to be 100 individuals for this population to be able to recover."
Hubbard referenced the fact smaller vessels must maintain a moderate speed in stormy waters to remain relatively safe, as a 10-kt speed limit could toss a small boat around in choppy seas.
"[The regulation] would definitely slow down transit. It would make fishing further even more difficult, and on top of that, it would affect safety at sea. When you're out there and you're fishing and a storm comes up, you want to be able to get out of the way."
Host Jesse Watters also sounded off on another instance of a Democratic administration taking action that affects inshore waters, this time in New Jersey.
Gov. Phil Murphy celebrated approving a tax break to a Danish company called Orsted to commence maritime wind farm projects, which he said in a tweet would help New Jersey move toward its "100% clean energy economy" goal by 2035.
The deal will create "thousands of good-paying union jobs and major environmental benefits for generations to come," Murphy wrote in a tweet. 
---