The Sharks host the Islanders Saturday night
By Ryan Morik
During sporting events, teams' Twitter accounts will send out live updates and highlights throughout the games.
However, that won't be the case for the San Jose Sharks Saturday night.
The team is hosting Pride Night at SAP Center against the New York Islanders, but those in attendance will not be the only ones seeing their celebration
The Sharks tweeted on Saturday that they will "offer information and facts about LGBTQIA+ topics" instead of "our normal game content" throughout Saturday's contest.
"Our hope is that this content will serve as a reminder that there are issues more important than goals, highlights, and wins," the team said in its tweet.
"Hockey is not for everyone until everyone is comfortable playing, working, or being a fan of this incredible game."
The NHL has come under fire in recent months as two teams and an individual player refrained some wearing pride-themed jerseys during warmups.
The Philadelphia Flyers' Ivan Provorov cited his Russian Orthodox religion for his reason not to participate in warmups on his team's Pride Night. The rest of the team wore LGBTQ-themed uniforms.
The New York Rangers promoted its Pride Night in January, saying players would wrap pride-themed tape on sticks, but that plan was also nixed with no explanation. The same thing occurred with the Minnesota Wild earlier this month.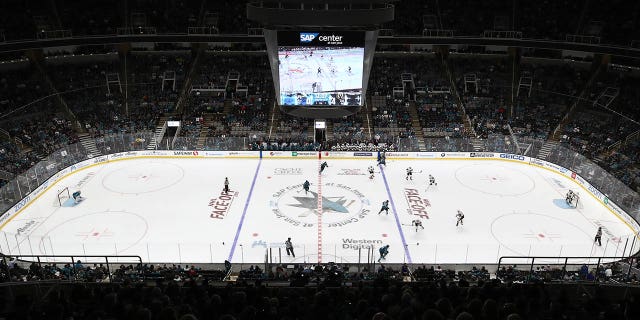 The Sharks are 19-36-14, and their 52 points are the second-lowest in the league.
---