Gronkowski hosted Gronk Beach in Las Vegas last year during the NFL Draft
By Ryan Gaydos 
Rob Gronkowski stayed retired for the entire 2022 season despite rumors and reports that teams were trying to pry him off the couch to put on the pads just one more time.
Even in his absence from the football field over the course of the regular season, it does not mean he will be missing any of the festivities going on in Glendale, Arizona, during Super Bowl week. In fact, the former Tampa Bay Buccaneers and New England Patriots tight end will be hosting his Gronk Beach event on the Saturday night before Super Bowl LVII kicks off at State Farm Stadium.
Gronk Beach will feature Monster's new line of malt beverages, The Beast Unleashed, and music from 21 Savage, Diplo and Lil Jon. The entire event, including a celebrity volleyball game, will take place at Talking Stick Resort in Scottsdale the night before the Super Bowl kicks off. Gronkowski has previously held the Gronk Beach events in Miami during Super Bowl week and during NFL Draft weekend in Las Vegas. Tickets for this year's event go on sale Thursday.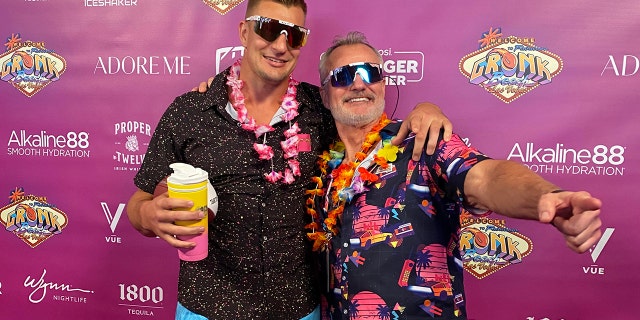 The former tight end told Fox News Digital he hoped to do something at the event for Buffalo Bills safety Damar Hamlin, who suffered a cardiac arrest and collapsed on the field during a game against the Cincinnati Bengals. There has been an outpouring of support from current and former players, like Gronkowski. He donated $69,000 to Hamlin's charity and wanted to give back some more.
"This year we're probably going to do something for Damar," Gronkowski told Fox News Digital in a recent interview. "Just give him a little tribute while we're at Gronk Beach because the NFL family – that's a brotherhood. When you're in that brotherhood, you want to pay tribute to a situation like that no doubt."
Gronkowski called the entire situation "very frightening."
"My friend showed me (the play) when we were on a boat together," Gronkowski said. "They showed me the play, I actually started tearing because it could have been anyone. Could have been myself in that situation. It could've been a friend of mine. Every player is vulnerable, to be in that situation if you're playing in the NFL. While I was just sitting there watching it, we just started hoping for the best.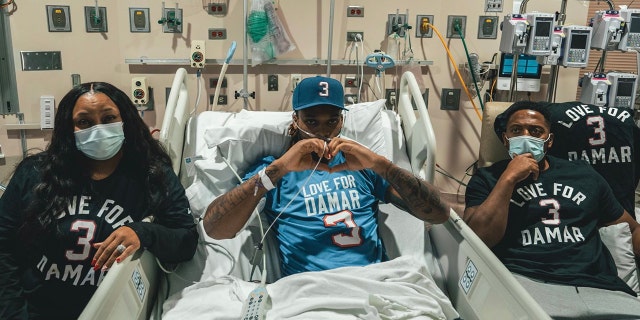 "I never really watched a play where someone got hurt and it's been timed out and I just literally have like tears coming down my eyes. I never had that happen before and never been in that situation before. It's just unbelievable. It's just such a great thing, though, to see the NFL come together as a whole and put their love in this situation and all the prayers in the situation to give that power to Damar to heal. And it's working and it's awesome to see."
As a player who had been on the top of his sport for over 10 years, Gronkowski has seen plenty of players go down with injuries and has been open about himself suffering gruesome injuries as well. He said football players just have the mindset to keep going despite the risks involved in the sport.
"I mean, that's just a mindset," Gronkowski explained to Fox News Digital. "When you're out on the field, you're not thinking that's going to be you. I'm just thinking about going out there and performing to the best of your capabilities. Yes, it's a very tough situation when you see a player go down. If it's a friend of yours or someone close to you, it just makes it that much harder as well. But you got to stick it in the back of your head.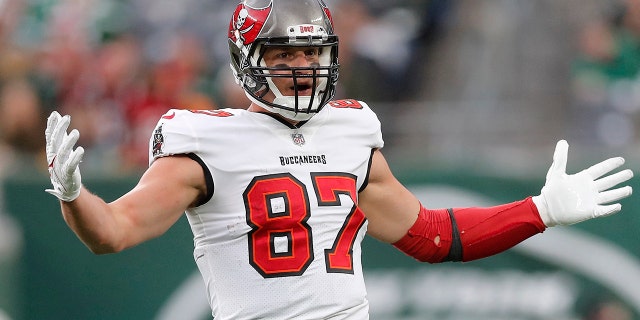 "You just got to keep on playing to the best of your abilities and not let it affect you while you're playing the game. And when you're playing the game, you don't want that mindset either. Because if you're playing scared or playing while you're thinking, that's when you're actually more vulnerable to get hurt than just being free out there on the field just doing what you do."
Hamlin was discharged from the University of Cincinnati Medical Center and transferred to a hospital in Buffalo on Monday. Hamlin woke up a few days after the medical emergency and was able to watch the Bills beat the Patriots on Sunday.
---