The Bucs nearly fumbled the game away
By Ryan Gaydos
Although Tom Brady and Mike Evans had outstanding games for the Tampa Bay Buccaneers in their victory over the Carolina Panthers, their punter may have made the play of the day on Sunday.
The Buccaneers had to punt the ball away with 42 seconds left in the contest. Jake Camarda prepared to kick the ball away, but the snap went awry. He made it to his left and used his right foot to kick the ball away.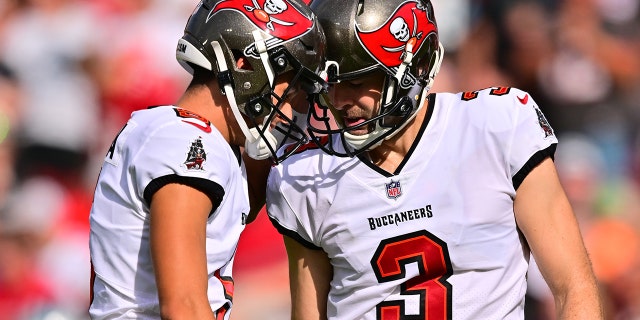 Camarda's extra effort helped Tampa Bay avoid a blocked punt or worse. A penalty on the play also gave the Buccaneers a second chance at putting the Panthers away. The second punt attempt was driven 41 yards and Carolina was forced to start at their own 8-yard line.
Fans were quick to applaud Camarda's punt in the tricky situation.
Camarda was a fourth-round pick out of Georgia in 2022. He was fresh off a national championship when he was named the starting punter. He's appeared in all 16 games for Tampa Bay this season.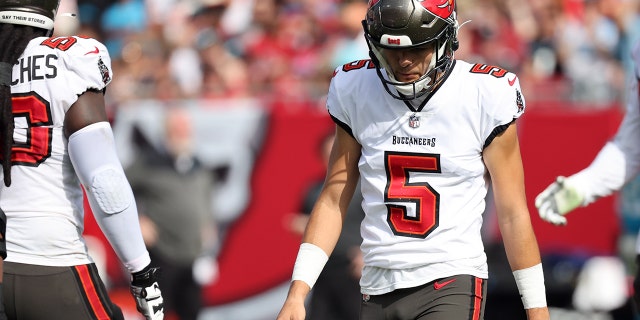 Brady had three touchdown passes and a rushing touchdown to lift the Buccaneers to a 30-24 victory over the Panthers and clinched the NFC South title. He finished the game 34-of-45 with 432 passing yards and added a rushing touchdown to his tally.
It was the first time he's gone over 400 yards passing since Week 16 against the New York Jets last season.
Evans and Chris Godwin each had 100 or more receiving yards. Evans finished with 10 catches for 207 yards. Godwin had nine catches for 120 yards.
---