Judge has been sidelined with a toe injury since June
By Ryan Gaydos
---
"God Bless America" can routinely be heard at Yankee Stadium during the seventh inning stretch, which has been the tradition since the 9/11 terror attacks in New York City.
New York Yankees slugger Aaron Judge takes the tradition very seriously. He revealed in a recent interview with NJ.com that he sings the patriotic tune every time he hears it – and for good reason.
"Singing 'God Bless America' is my sign of respect for the veterans who are being honored on the field," he told the newspaper. "They're 70 years old, some are 80, some are 90 and can barely walk. You see an old photo of them, their rank, what branch of the service, where they fought. I have nothing but respect for them."
According to the outlet, Judge's teammates Gerrit Cole, Anthony Rizzo, Kyle Higashioka and Anthony Volpe follow the Yankees slugger as well.
The organization plays Robert Merrill's version of the song after switching from Kate Smith's rendition when the spotlight focused on her past songs that featured racist lyrics in 2019. At the time, Yankees fans threatened to boycott the team over the 1939 rendition of the song.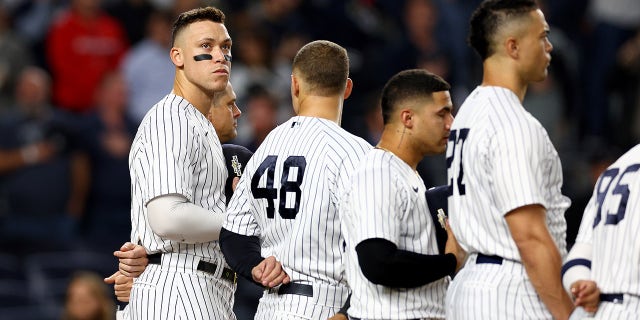 Judge told NJ.com he hoped the fans would join him and his teammates in singing the song and said their patriotism has "nothing to do with politics." He marveled at the sacrifices the young men and women made during World War II.
"So every time the anthem is played, especially on Opening Day, when we're lined up (at the first base line) or when 'God Bless America' is played, I'm thanking those who made it possible for me to play a baseball game and make a living like that," Judge added.
"Every time I see a soldier or Marine or sailor – or a policeman or firefighter – I say, 'Thank you.' I can't thank them all, so I do it by singing."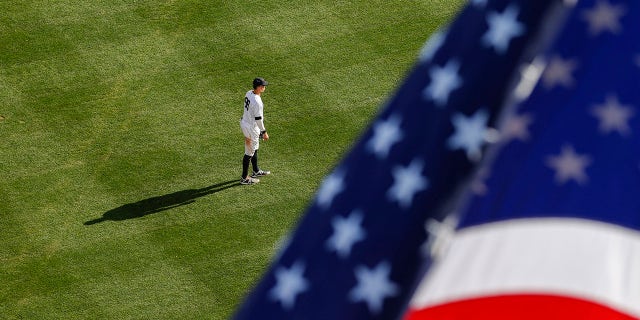 Judge has been out of the Yankees' lineup since the beginning of June with a toe injury. He's hitting .291 with a 1.078 OPS and 19 home runs. He set the American League record for most home runs in a season last year with 62. He won his first MVP award for his performance. 
---