By Arwa Haider
---
How the Cuban Missile Crisis inspired It's a Small World, and a cat tune sung by Peggy Lee had racist undertones – Arwa Haider traces the unexpected stories behind a century of Disney classics, decade by decade.
Music has always been the true key to the Magic Kingdom. Around a century ago, Walt Disney declared his musical ethos to his team: "We should set a new pattern, a new way to use music – weave it into the story so that somebody doesn't just burst into song." Disney music feels woven into our life stories, too; its vast repertoire seeps into our consciousness from infancy; it casts a spell through our adulthood. It is simultaneously in-the-moment and timeless.
Sometimes, the force of Disney's sound and vision is unexpectedly intense. My first ever cinema trip was to watch a reissue of Disney's Fantasia, but my mum had to carry me out midway, because my terrified toddler screams were drowning out the classical score. A generation later, I inadvertently traumatised my own son by taking him to watch Frozen II; he was spooked by the eerie echoes of Elsa's voice singing Into the Unknown.
As Disney marks its centenary, it's impossible to contain its musical legacy within a single volume or performance; the ongoing Disney 100 live tour features numerous classics – including The Jungle Book, The Lion King and Moana – but the songbook continually evolves, studded with emotional hooks. At five, I was mesmerised by the music and Technicolor visuals of Dumbo: especially the hallucinatory Pink Elephants on Parade, and the heart-rending Baby Mine (where Dumbo's shackled mother cradles her son through prison bars); decades later, it still makes me sob. When a Disney song hits, it never quite leaves you.
Disney music courses through genres – and can ride roughshod over cultural references; some details jar, even in the prettiest melodies. It is snappy and sophisticated; sweetly sentimental yet full of peculiar twists; here's a selection of dark sides and unexpected backstories from every decade to date.
1. Minnie's Yoo-Hoo (from Mickey's Follies, 1929)
Arguably the first Disney "banger" (and the first Disney song to be released on sheet music), this serenade to Mickey's sweetheart was penned by Carl Stalling and Walt Disney for an animated short – some claim that Disney himself provided Mickey's squeaky croon here. The overall effect is cute and creepy ("When it's feedin' time for the animals/ And they howl and growl like the cannibals"), with a psychedelic bendiness that also evokes that era's Fleischer Studios cartoons.
2. Someday my Prince Will Come (from Snow White and the Seven Dwarves, 1937)
The first ever full-length animated feature film delivered several hit tunes (composed by Frank Churchill and Larry Morey), as well as the original dreamy Disney Princess archetype. This yearning ballad seals the audience's bond to Snow White; unfortunately, it also locked young voice actress Adriana Caselotti into the role, and she was apparently refused permission to star elsewhere (she was named a Disney Legend in 1994, aged 77). The song also took flight as a jazz rendition, in some starkly different settings; in 1943, it was performed in Theresienstadt Concentration Camp, by a collective known as Ghetto Swingers. Later, it was vividly reworked by jazz legends including Miles Davis, who named his 1961 album after the song.
3. Zip-a-Dee-Doo-Dah (from Song of the South, 1946)
This irrepressibly jaunty melody won an Oscar for best original song, as well as an honorary Academy Award for the talented black US actor/singer James Baskett, in what would be his final film role, as Uncle Remus in Disney's live action/animation feature Song of the South. Unfortunately, the film's luridly idealised plantation life and hierarchy makes it a deeply queasy period piece, and Song of the South has steadily faded from the Disney catalogue. The film's Br'er Rabbit folktales – and this song – also inspired the Splash Mountain log flume ride, which closed at the US Disney parks earlier this year, although there are currently no plans to close the attraction at Tokyo Disneyland.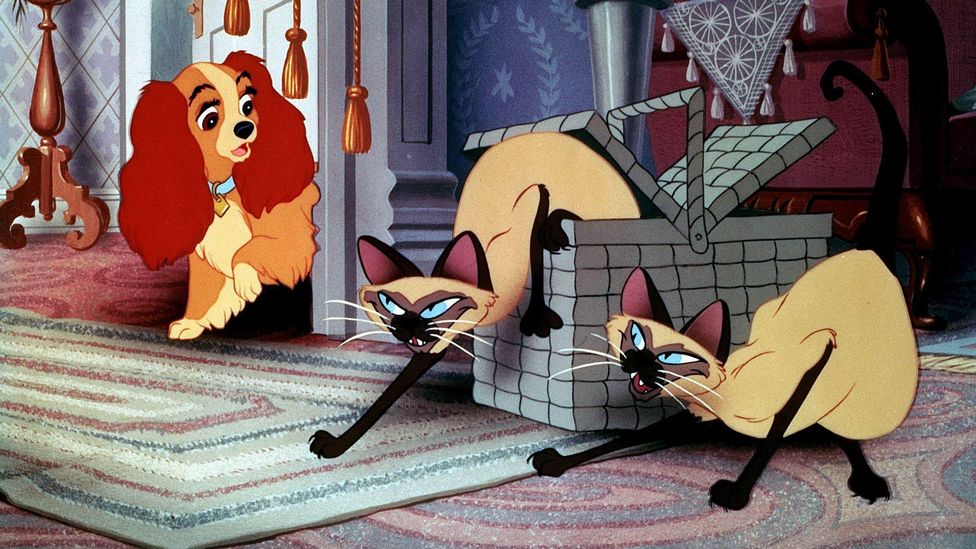 Lady and the Tramp (Credit: Alamy)
4. The Siamese Cat Song (from Lady and the Tramp, 1955)
A fleeting yet unforgettably weird number purred in broken English by US star Peggy Lee, in the guise of two devious Siamese cats. It took some years for the grotesque racial stereotypes to be called out ("comedy foreigners" were a mainstream entertainment staple until at least the 90s), but this song was replaced in Lady and the Tramp's live-action remake (2019) with the slinky What a Shame, sung by Nate "Rocket" Wonder and Roman GianArthur as a pair of mean Devon Rex felines. "We took on the challenge gingerly," Wonder admitted to Variety.
5. It's a Small World (After All) (1964)
Prolific sibling songwriters Robert B and Richard M Sherman composed many of Disney's most celebrated classics – including the soundtracks for Mary Poppins (1964) and The Jungle Book (1967) – and their cheery tunes formed a counterpoint to bleak realities (Robert had served as a teen soldier in World War Two). They originally wrote this candy-sweet anthem for the World's Fair, against the backdrop of the Cuban Missile Crisis. It's now likely to be the most publicly performed song in the world, due to its continuous loop at the Disney parks; its eponymous ride remains an incredibly trippy experience, as you float through its cartoonish utopia, serenaded by hundreds of animatronic dolls.
6. Ev'rybody Wants to be a Cat (from The Aristocats, 1970) 
Louis Armstrong was reportedly approached for The Aristocats soundtrack, but declined due to poor health; Armstrong's influence is definitely felt in this hip, swinging jazz number, voiced by musician Scatman Crothers as leader of a band of alley cats. The vibe is bizarrely marred by the addition of another "wacky" Asian stereotype (a Siamese cat named Shun Gon, who plays piano with chopsticks), but this groove has inspired modern retakes, including trumpeter Roy Hargrove's excellent version on the 2011 compilation album Everybody Wants to be a Cat (also featuring Disney jazz covers from the likes of Dave Brubeck and Esperanza Spalding).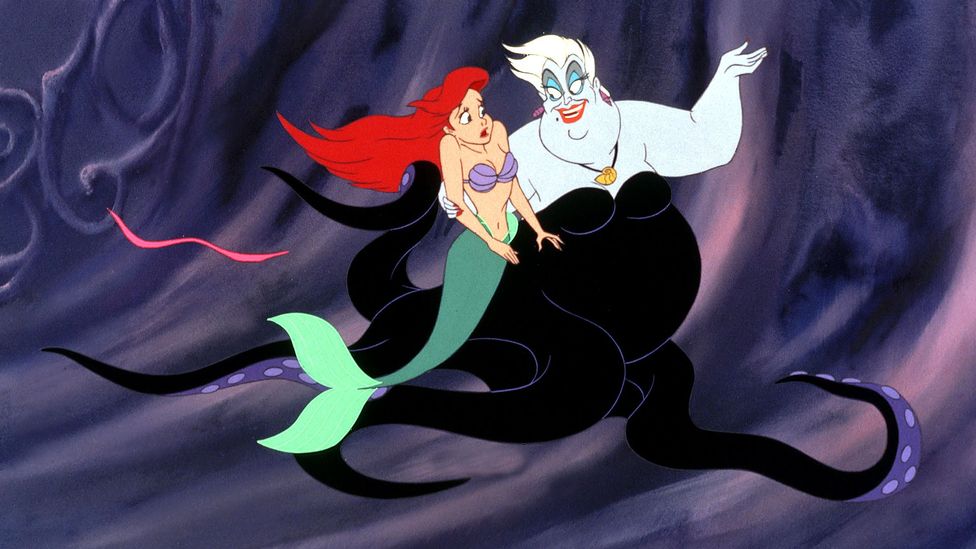 The Little Mermaid (Credit: Alamy)
7. Poor Unfortunate Souls (from The Little Mermaid, 1989)
The Little Mermaid – and Alan Menken and Howard Ashman's soundtrack – is regarded as the Disney musical's modern renaissance. It's arguably the rebirth of the Disney princess – as well as the iconic Disney villain: here in the splendidly camp form of Ursula the Sea Witch (modelled on drag legend Divine, and voiced by Pat Carroll). This is Ursula's Gothic showstopper, convincing mermaid Ariel to sacrifice her voice for human love – and it's been variously reworked by Queen Latifah, the Jonas Brothers, Michelle Visage (for RuPaul's Drag Race), and Melissa McCarthy (in The Little Mermaid's recent live-action remake).
8. Arabian Nights (from Aladdin, 1992)
This award-festooned fantasy opens with an orientalist ditty (written by Menken and Ashman, and sung by Broadway star Bruce Adler), which drew protests from anti-discrimination groups. "The song slanders an entire people," wrote Jack G Shaheen in the LA Times. "The lyrics and successive scenes inform people that Arabs are not like us: they are uncouth." Post-release, Disney did amend two lines describing the Arabian setting ("Where they cut off your ear/ If they don't like your face"), though the dubious punchline remained: "It's barbaric, but hey, it's home".
9. He Mele No Lilo (from Lilo & Stitch, 2001)
Hawaiian orphan Lilo's cuddly sidekick Stitch is a genetically engineered extraterrestrial escapee. Their unconventional family bond drives this animated feature (set to be the next Disney live-action remake); there's also a lot going on in this Pacific harmony, which plays over the opening scenes. Not only has this sequence led fans to speculate that there's a connection between Lilo and Disney's Polynesian heroine Moana, it's both a beautiful melody and a culturally insensitive mash-up. As Nina Mantilla notes in her essay The New Hawaiian Model (2012): "Two mele inoa [sacred name chants], traditionally viewed as a source of Native Hawaiian pride, were performed as a single song and renamed… Disney subsequently copyrighted the song for the movie's soundtrack."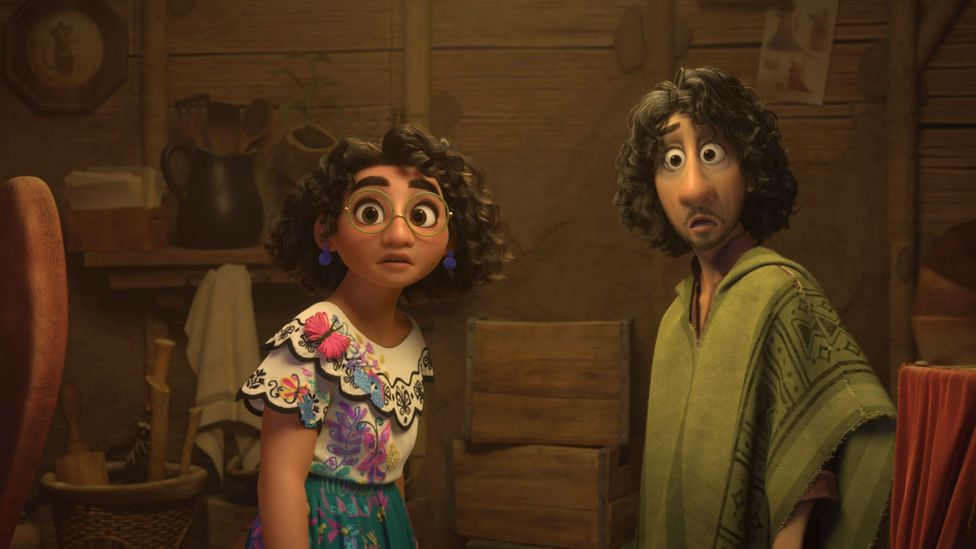 Encanto (Credit: Disney)
10. Do You Want to Build a Snowman? (from Frozen, 2013)
This poignant song was almost considered too gloomy for Frozen – but it proved a stand-out (as much as the belting Let It Go). It also demonstrated songwriting couple Kristen Anderson-Lopez and Robert Lopez's forte for unusual blends – from showtunes to meditations on mortality (which would infuse their music for 2017's Coco). "Each generation is learning about different parts of the human experience," Anderson-Lopez told me in a 2019 interview. "I was a Psych and Theatre major; I approached storytelling with all of that knowledge of research on shame, what happens when doors of communication are closed, clinical ways that families in crisis can move forward. Songs like Do You Want to Build a Snowman? sung through a door, and Love Is an Open Door, are absolutely springing out of a post-'90s Psych background."
11. We Don't Talk About Bruno (from Encanto – 21 languages version, 2021)
Disney has historically translated its hits for different territories, with an increasingly fine attention to detail; as musician and historian Alexander Rannie explains: "They might reanimate certain moments for different countries to make sure that a joke lands… they do separate dubs for European Portuguese and Brazilian Portuguese". In the digital age, we can easily access the global range of a mega-success like the Colombian-themed Encanto (with Lin-Manuel Miranda's wonderful soundtrack), which has been translated into 46 languages. This clip of Encanto's biggest anthem brilliantly showcases 21 of them – including English, Spanish, Hungarian, Dutch, Korean, Thai and more – without missing a beat: Disney music as a universal groove.
---