Rosie Grant, 33, first found a spritz cookie recipe — and her fascination with menus from beyond took off
By Brittany Kasko
---
A woman has made 23 recipes found on gravestones throughout the country — and has even begun bringing each of her culinary creations to the tombstones of the deceased people who featured them.
Rosie Grant, 33, stumbled upon a spritz cookie recipe carved into a headstone while she was earning her master's degree at the University of Maryland. In August 2021, Grant found an open-book design on top of a tombstone — with a full cookie recipe engraved there. 
That gravestone is located at the Green-Wood Cemetery in Brooklyn, New York.
Grant, today a librarian and communications manager, went home and baked cookies from that recipe — and even brought them back to the grave to eat as a kind of munch-and-mourn ritual.
"I saw a grave spritz cookie and I thought, 'I'm curious to see how this cookie tastes,'" she told news service SWNS.
From there, the Los Angeles resident decided to see if the engraving of recipes on tombstones was a common practice — turns out it's more prevalent than most people might think.
She has now tried 23 different meals and treats featured on gravestones at cemeteries all across the country — in Utah, Iowa, Alaska, Louisiana, Washington and more. 
Taking it a step further, Grant has visited six of the gravesites so far with the recipes they feature, bringing along her homemade food specific to that grave.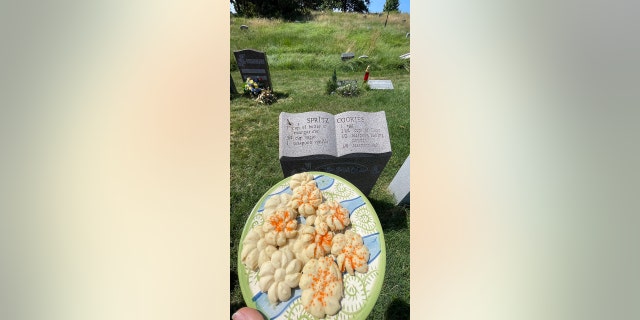 Grant said she would love to visit all the graves with the food they feature — from snickerdoodle cookies to blueberry pies to meatloaf and even party dips.
"I'd love to cook with some of the families," she said.
"For me, the gravestone recipes are for the living."
Grant runs a TikTok account called @GhostlyArchive and posts her ghostly baking adventures there — earning nearly 8 million likes and over 193,000 followers. 
After she began sharing her journey online, Grant said families reached out to her about their relatives' gravestone recipes.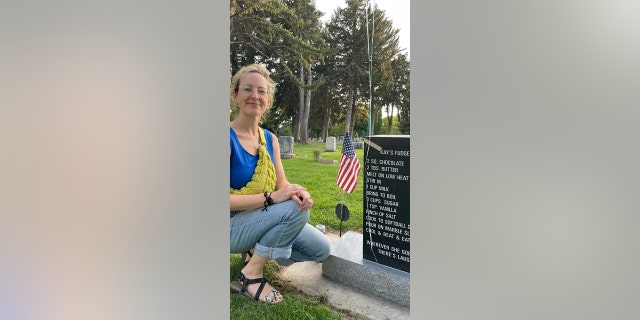 Grant said that although cemeteries are beautiful places, she used to feel uncomfortable around the topic of death, she told SWNS. 
Today, however, she's begun to have a different view.
"For me, the gravestone recipes are for the living," she said. 
Grant said food and cooking reminds her of her own family. 
"Food is such an important part of my relationship with family — every gathering has food at it," she said.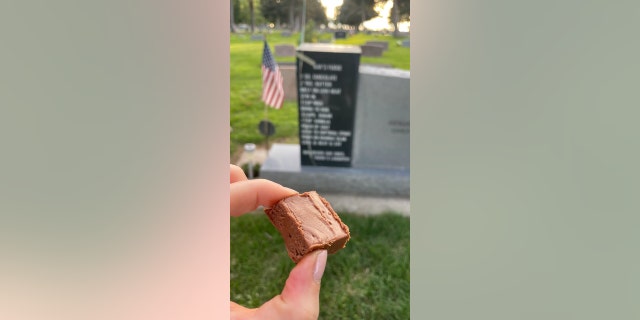 When asked if she herself will put a recipe on her own gravestone one day, Grant said she will — choosing clam linguine as the one to remember. 
That way, she said, her own family "could think of the memory of us cooking it together." 
As she told Washingtonian recently in an interview, "I don't want to think about my own death, but I don't mind thinking about a recipe people remember me for."
In terms of any patterns she's seen in gravestone recipes, she said a lot of them have been cookie recipes.
"There's something forgiving about a cookie recipe. You can throw it all together," she told Washingtonian. "The instructions can be minimal — they're limited on a gravestone — and it involves standard ingredients: butter, sugar, eggs."
---