5-foot alligator reportedly sneaked into couple's home in New Iberia, Louisiana
By Cortney Moore
---
A husband and wife were startled last week when they discovered a five-foot alligator inside their new Louisiana home.
Don and Jan Schultz, originally from Arizona, recently moved to New Iberia, Louisiana, and called police to remove the reptile, according to a viral video shared by the couple.
Mr. and Mrs. Schultz suspect the alligator likely made its way into their home through a dog door on the evening of June 23, according to the video. (SEE it at the top of this article.)
The couple's footage, which was uploaded to YouTube, shows a trapper capturing the alligator with a catch pole while the reptile stood still inside their home.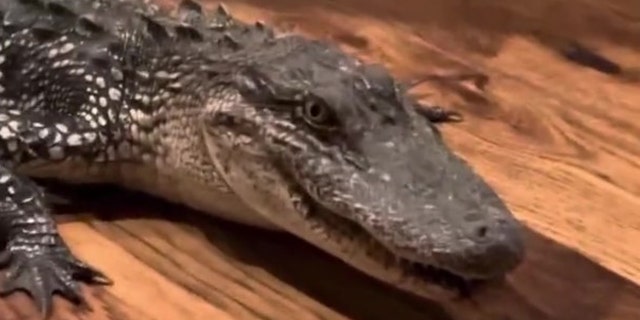 Panda, the Schultz family's Australian cattle dog, reportedly alerted the couple of the alligator's presence at around 1:30 a.m., according to the video's description.
Don Schultz wrote that he grabbed his pistol while he checked on the disturbance and "could see a shape on the edge of the rug" after he turned the corner into the hallway.
"I couldn't focus very good having just woke up," he said. "But when the full shape registered in my brain, I jumped back. My foot had only been about 12 [inches] away from its head."
The couple called 911, and three deputies from the Iberia Parish Sheriff's Office responded, according to Don.
"They called the Fish and Wildlife Department, who sent a guy out. He showed up around … 2:15 a.m." Don Schultz wrote in his video description. "The expert thought that since it's been so hot for the last couple weeks, that it felt the cool air seeping out from around the dog door and just followed it into the house."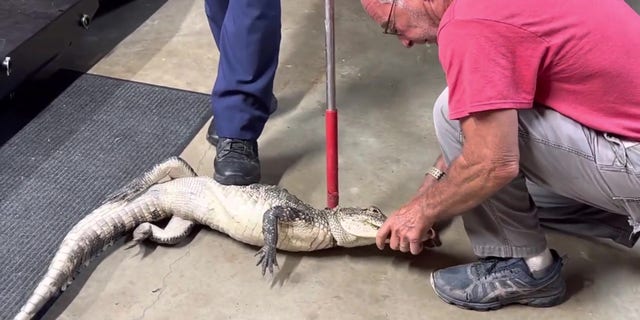 When captured, the alligator repeatedly attempted to roll out of the trapper's grasp, but the animal was successfully removed and restrained in the Schultz family's garage, according to the Schultz's video.
Fox News Digital reached out to Louisiana Wildlife & Fisheries for comment outside of regular business hours.
---