'Rocky' star Sylvester Stallone and wife Jennifer Flavin share three daughters
---
Sylvester Stallone is sharing a steamy moment with his wife Jennifer Flavin in Sardinia, Italy.
Stallone, 77, was spotted cozying up to wife Jennifer Flavin, 54, during their European getaway, Thursday. 
The two were spotted playfully hugging in the pool, as the "Rambo" star embraced his wife from behind showing off his muscular arms. 
He sported a black T-shirt with matching sunglasses and shined his gold watch in the photograph.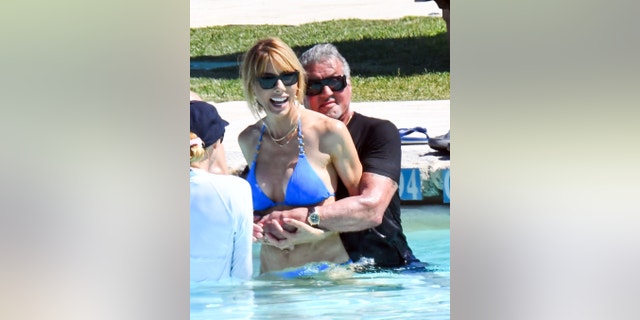 Flavin flaunted her fit physique in a blue bikini, with a set of gold chained necklaces and stunned in some summer shades. 
The loving couple were all smiles as Stallone held Flavin tight, as the two were waist-deep in the outdoor pool. 
In one photo, the "Rocky" star appeared to be covering the top part of his wife's body with his hands as the pair were seen laughing during their holiday.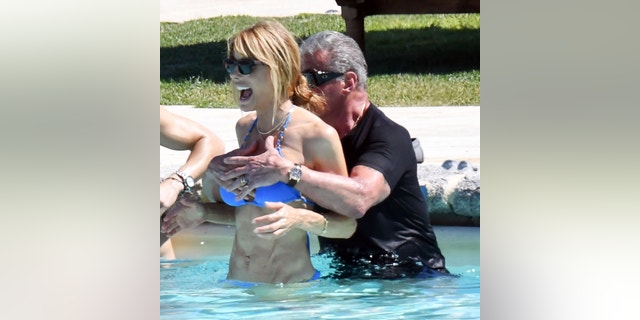 Stallone and Flavin's cheeky vacation photos come after they called off their initial divorce. 
The "Cobra" star and his wife of 25 years patched up their relationship less than one month after the former model filed for divorce in August. 
She accused Stallone of engaging in the "intentional dissipation, depletion and/or waste of marital assets which has had an adverse economic impact on the marital estate" in paperwork filed on Aug. 19.
However, by September the pair had seemingly chosen to reconcile and work on their marriage.
"The Parties agree that it is in the best interests of each of them individually, and more importantly collectively as a family, to resolve all issues attendant to the dissolution of their marriage in a dignified, amicable, and private manner out-of-court," the order stated. "Each party is satisfied that all immediate issues have been addressed to his and her mutual satisfaction in a separately executed stipulation."
Stallone and Flavin met in 1988 and married in London in 1997.
The couple share three daughters together — Scarlet Rose, Sophia Rose and Sistine Rose Stallone.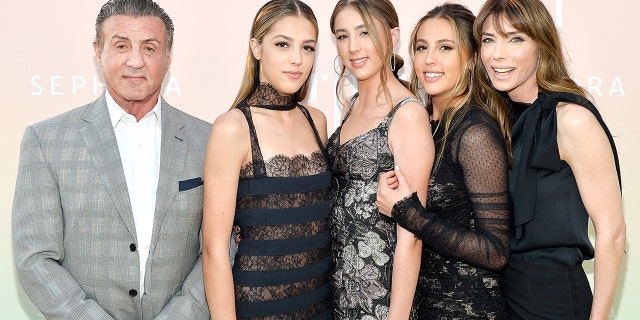 The "Tulsa King" star launched a reality television show on Paramount+ with his family called "The Family Stallone." 
In a recent interview with Fox News Digital, Stallone noted that they're "all still together," so he questioned: "Why not take advantage of that?"
Fox News Digital's Lauryn Overhultz contributed to this report.
---