The 'Succession' actor said he thinks the monarchy should be abolished
By Brie Stimson
Actor Brian Cox said he thinks Meghan Markle "knew what she was getting into" with the royal family and that her "ambition" of marrying "Prince Charming" factored into her choices. 
"When you look at what's happening with Meghan and Harry, you go, 'Well, Harry, there's an innocence about.' And with her, too. But you can't go into a system where somebody's already been trained to behave in a certain kind of way and then just expect them to cut themselves off," the "Succession" star, who plays the patriarch of a billionaire family, told Haute Living in an interview published Thursday.
Cox argued Meghan "knew what she was getting into, and there's an ambition there clearly as well — the childhood dreams of marrying Prince Charming and all that s— we see as fantasy that could be our lives in our dreams. I'm a Cinderella person, you know."
The 76-year-old Scot said he believes a monarchy should no longer exist because it's "not viable." 
"It doesn't make any sense. It's tradition and all that, they say. I say, 'F— it! Move on!'" he added. 
Earlier in the interview, Cox said he lives in the U.S. because he's "attracted by the notion of egalitarian thinking." 
He also acknowledged that people love to hate on others. 
"That's why Succession is so popular — people love to hate," he told the magazine. "They love to look at the Roys [the rich family on the show] and go, 'Oh, aren't they horrible.' They don't make the connection: you're not too far away from these people. You know that, don't you? Given certain circumstances, you'd be in exactly the same situation. You would still be messed up."
He called the phenomenon "gladiatorial. 'Oh, look at these horrible people destroying each other. Isn't it fun!' That's all part of the storytelling of our existence, and it's true, it's accurate; it's not something that's made up. We've forgotten who we are as human beings and who we are in terms of our own evolution."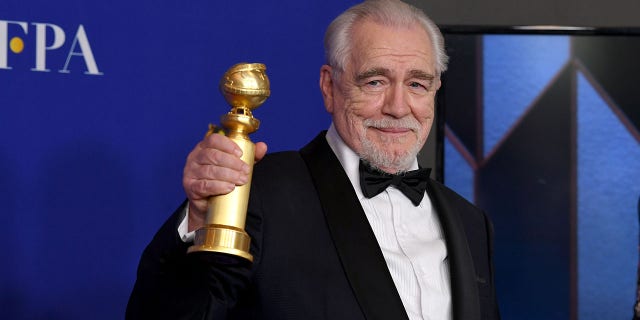 Cox also gave his thoughts on Harry and Meghan after the release of their Netflix docuseries late last year when he told "Good Morning Britain" "I don't know what went on, but something clearly traumatic went on for the pair of them. I don't think they made it up, I don't think it's false. I think it's true and should've been rectified, and it hasn't."
He also defended the couple in 2020 after they stepped down as senior royals, arguing they were "driven out" by the British media. 
'They [some sections of the media] have forced Meghan and Harry to quit the country," the "Ring" actor told ES magazine. "Let's not beat about the bush — they have driven them out, and yes, I have no doubt at all, some of it is racist. It's horrible what has happened to them.'"
He called Queen Elizabeth II, who was alive at the time of the interview and died last September, an "amazing woman," but said when she dies he thinks the "whole bloody shooting match" of the monarchy "should go."
---