The 56-year-old is married to French businessman François-Henri Pinault
By Stephanie Giang-Paunon
---
Salma Hayek is heating things up this summer. 
The 56-year-old sizzled in a swimsuit to celebrate National Bikini Day in her latest sultry snap.
"Happy #NationalBikiniDay! Can you believe the bikini has only been around for 77 years?! Let's hope they don't ban them too," she posted on Instagram, Wednesday, before sharing the Spanish translation. 
Hayek made sure to add the hashtag "not a throwback" to avoid any confusion as to when the sexy photo was taken.
The "Magic Mike's Last Dance" actress stunned in a colorful two-piece patterned swimsuit and showed off her fit physique while standing in a swimming pool. Her long brunette hair was styled in loose waves.
Hayek completed the look with a pair of long gold earrings, as she looked straight at the camera and slightly pouted her lips. 
The Hollywood star has put her bikini body on display in the past.
Last week, Hayek shared a cheeky photo of herself lounging nude in a sauna wearing nothing but two towels. 
"Embracing the healing power of the sauna and sweating out the stress this #WorldWellbeingWeek," she captioned the post shared with her 25 million Instagram followers. 
In the photos, Hayek is pictured lying on her back on a sauna bench with wet hair and her eyes closed, seemingly at peace.
The comments section was full of praise for the "Black Mirror" actress.
"No need to turn on the heat in the sauna. You did that when you walked in," one commenter wrote, with another writing: "how to break the internet." Many opted not to use any words in their comments, choosing instead to include a series of fire emojis.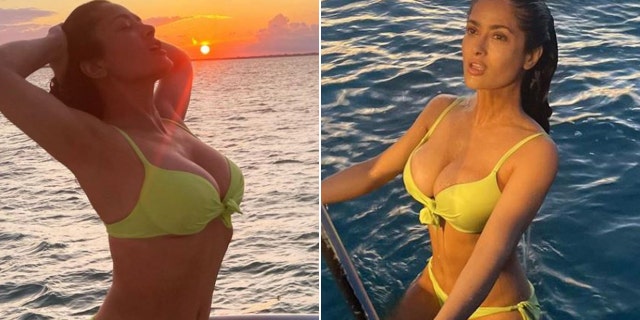 The "Eternals" star has caused a stir with several bikini photos in the last few months. 
In April, Hayek made a splash as she flaunted her fit body in a bright yellow bikini while she took a dip in the ocean. 
"Every time I need to feel renewed I jump into the ocean," she captioned the post, adding a wave emoji
Most recently, Hayek appeared in "Magic Mike's Last Dance," alongside Channing Tatum. She also appears in season 6 of "Black Mirror," a role Hayek admitted she had been reluctant to be a part of.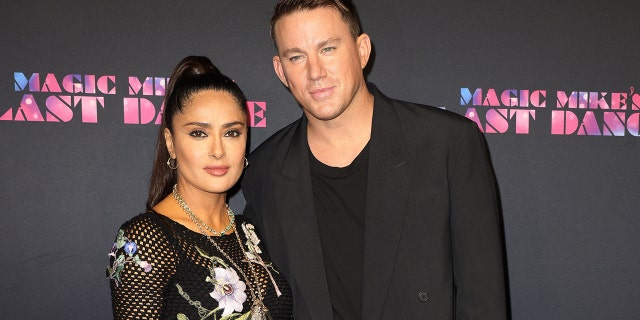 Hayek said she was afraid the "disgusting" and "grotesque" scenes she acted in would be largely criticized by viewers. 
"There are so many moments that shocked me in the script. There is one huge one that I had to come to terms with, and made me ask myself, 'Do I really want to do this? Am I going to get in trouble?'" Hayek said during an interview for Radio Times, according to the Independent. 
Despite Hayek's fears that she would get in "trouble" for her role in the dystopian, sci-fi drama series, she confessed that she enjoyed working on the popular television series.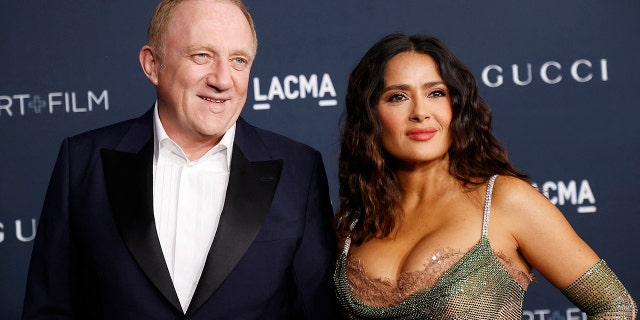 "It's been absurd and a lot of fun. It's a once-in-a-lifetime opportunity to play an interpretation of myself," Hayek added. "I got to explore the concepts and clichés people have about me and be self-deprecating."
Hayek married French businessman François Henri Pinault in 2009. The couple share one daughter, Valentina Pinault. 
---