Lundgren is vacationing in Mykonos with both daughters Ida, 27, and Greta, 21
By Stephanie Giang-Paunon
---
Dolph Lundgren, the actor best known for his roles in the 1985's "Rocky IV" and 2018's "Creed II," appears to have tied the knot with personal trainer Emma Krokdal. 
Lundgren, 65, was seen vacationing in Mykonos, Greece, with his two daughters Ida, 27, and Greta, 21, along with his potentially new wife, Krokdal, 25.
During their luxurious holiday, Ida shared highlights on her Instagram Story of what looks like an intimate party celebrating her father and Krokdal's nuptials.
In one photo, Lundgren and Krokdal both appear to have on wedding rings. The happy couple, both wearing white, was all smiles as Lundgren held a cigar in his mouth and pointed to Krokdal, as she gazed at him lovingly.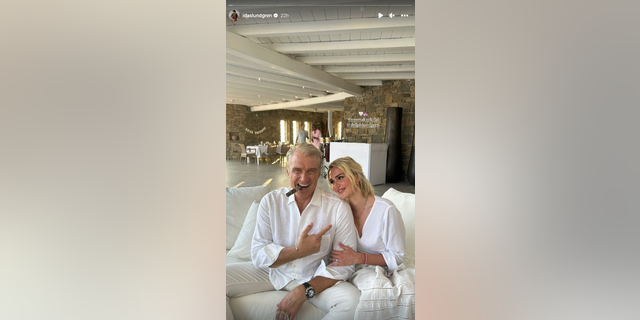 The photo was accompanied by a white heart and wedding chapel emoji with their social media handles tagged.
A video shows a small group of people dancing and singing by an infinity pool overlooking Mykonos with the caption "Congratulations" with Lundgren and Krokdal's social media handles tagged underneath.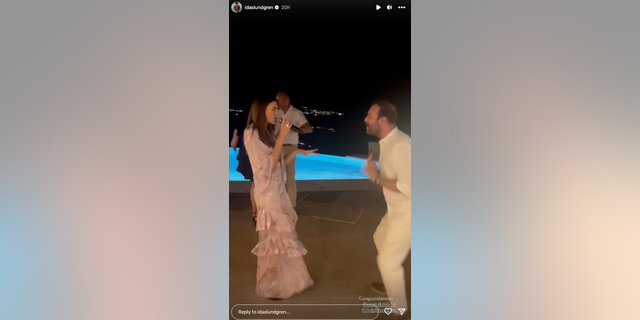 Other videos include a large display of fireworks and Lundgren happily playing bongo drums with a white banner in the background. 
Reps for Lundgren did not immediately return Fox News Digital's request for comment.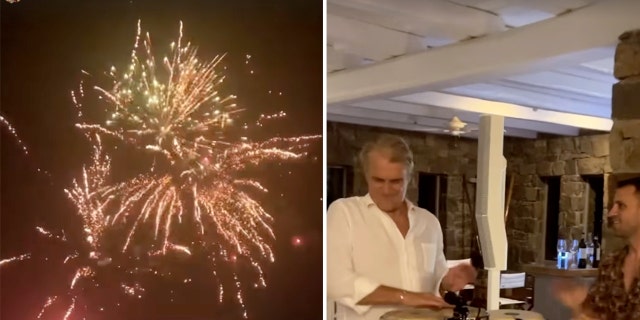 Ahead of their celebration, Lundgren and Krokdal were photographed poolside in Mykonos on Thursday. 
The Swedish actor flaunted his impressive physique in tropical swimming trunks, while Krokdal wore a black bikini. The two were seen cuddling by the pool as Lundgren's daughters were also there relaxing and enjoying the sunshine.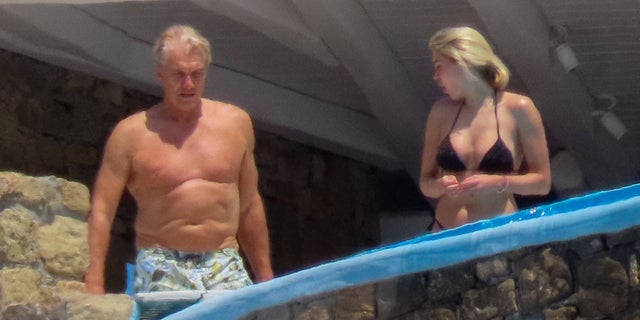 Lundgren additionally took to Instagram to post a photo of the loving couple sharing an embrace in a clear blue infinity pool overlooking Mykonos Island.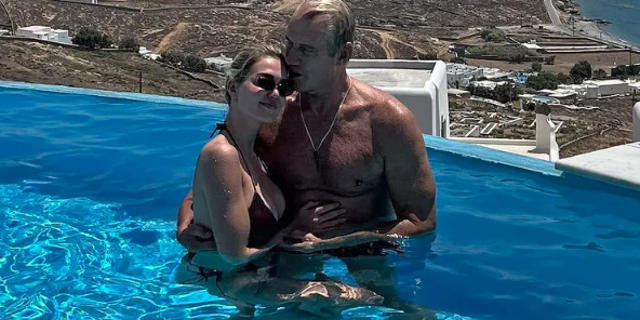 His caption read, "Tomorrow is the day. Mykonos," with a red heart emoji.
Lundgren's oldest daughter, Ida, was spotted joining the couple on vacation as she sported a blue and gold two-piece swimsuit. Her sister, Greta, also joined the family affair and posted videos of them cruising on a luxurious boat.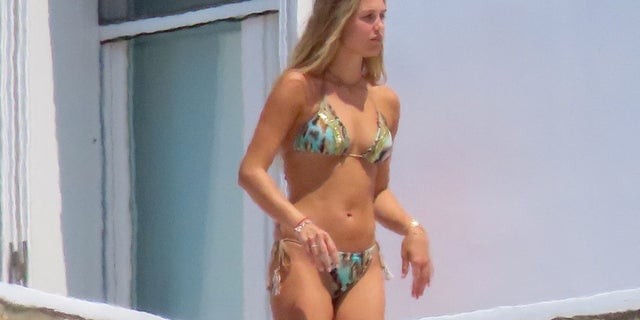 Lundgren previously told Fox News Digital while promoting his latest film "The Best Man" that he had plans to marry Emma for quite some time.
"I had it planned for a while. First, the pandemic kind of disrupted everything. And now, I was going to do it in Italy," he detailed. 
"We were going to do it in Italy in the summer because I had a festival. But now there is…another project I may do shooting in South Africa, and so I may have to switch it up again somehow."
The "Rocky" star has previously spoken out about the age difference between him and Krokdal. 
He pointed out that the personal trainer, who is 40 years his junior, "is very mature for her age," during an appearance on "In Depth with Graham Bensinger" in May.
Lundgren added that she "was like an angel that was sent down to help me."
Although he noted that the age difference is "severe," he added that he has "been with people that are twice her age [who are] less mature than she is."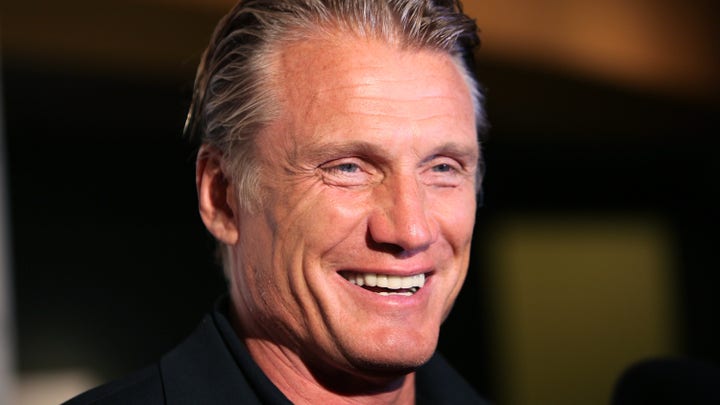 "I feel like Emma is very mature for her age, for sure. She's had an interesting life. She came over here from a small town in Norway," he continued. "She was married here, and she went through a difficult divorce and went through a lot of stuff that most young people her age don't have to deal with."
"So she's quite mature and at the same time, I think I'm quite youthful," Lundgren remarked. 
The news of Lundgren and Krokdal's potential nuptials comes after the "Rocky" star revealed in May that he has been secretly battling cancer for the last eight years.
During the interview with Bensinger, the action star spoke openly about the health struggles he has faced for much of the past decade. 
He said his cancer battle started when doctors found a tumor in his kidney in 2015. The doctors were able to remove the cancerous tumor, "then I did scans every six months, then you do it every year and it was fine, you know, for five years," Lundgren said.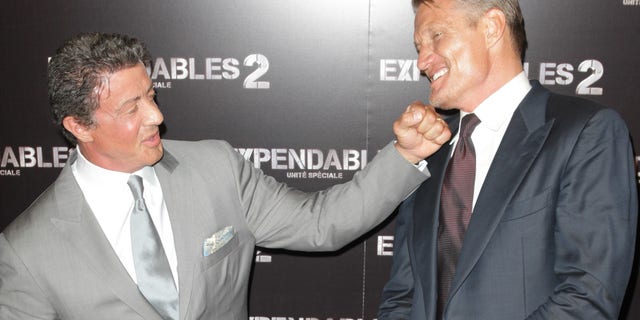 After his doctor told the "Don't Kill It" actor to "spend more time with family," Lundgren realized that the doctor did not think he had much time to live.
The "Aquaman" star confessed he was not "bitter about" the possibility of dying, saying that he had a "frickin' great life."
Even as his cancer continued to progress, Lundgren decided to get a second opinion from Dr. Alexandra Drakaki, who made a key discovery about his case.
The California-based oncologist discovered a mutation in one of his growths that is common in lung cancer allowing doctors to try other potential treatments.
"Within three months, things were shrinking by 20 to 30 percent," Lundgren said.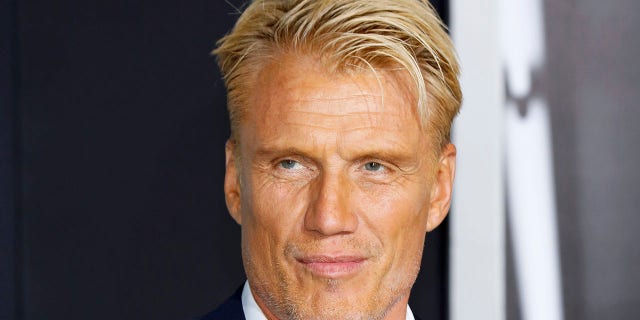 By the end of 2022, his tumors had shrunk by about "90 percent," allowing him to surgically remove all the remaining scar tissue.
Despite the shocking news, Lundgren shows no signs of slowing down. 
He has a number of upcoming films, including his role as Gunnar Jensen in "Expendables 4," out Sept. 22, and King Nereus in "Aquaman and the Lost Kingdom," out Dec. 20.
The Swedish actor shares his two daughters, Ida and Greta, with ex-wife Anette Qviberg. The pair were married for 16 years before deciding to call it quits in 2011. 
Fox News Digital's Sarah Rumpf-Whitten contributed to this report.
---