Sarah Brady said her one wish' for the 'You People' actor would be that he's surrounded by 'feminist men who can hold him accountable to grow in the ways he has expressed he wants to'
By Brie Stimson
---
Jonah Hill's ex-girlfriend, Sarah Brady, accused the 39-year-old actor of "emotional abuse" in a series of posts on her Instagram story this weekend. 
"This is a warning to all girls," Brady, 26, wrote in one of several Story posts. "If your partner is talking to you like this, make an exit plan. Call me if you need an ear."
The post included an alleged text exchange between the former couple in which the surfer was agreeing to take down any social photos she'd posted of herself that made him uncomfortable, including any of her "in a bathing suit surfing or not" or any with her "a– in a thong."
"Not a thong but k," she replied about her surfing apparel. 
In another post, she wrote that while she struggles with mental health along with him — which Hill has been public about in the past — "I do not use it to control ppl like he did to me."
She added, "it's been a year of healing & growth with the help of loved ones and doctors to get back to living my life without guilt, shame, and self-judgment for things as small as swimming in a swimsuit rather than a more conservative wetsuit. And I'm sure there's still much more healing from this abuse ahead of me." 
She explained in another post that she made the decision to share what she went through publicly because staying silent was more damaging to her mental health than "sharing it could ever do." 
She captioned another post — with a screenshot of the "You People" actor accusing her of "using" him by not realizing how "super nice" and "lovely" he was to her during their relationship — "gaslight much?" 
Another alleged screenshot showed Hill telling her his "boundaries" "plain and simple" were if she needed to "surf with men," "have bounadryless [sic], inappropriate friendships with men," "model," post pictures of herself in a bathing suit or "sexual" photos, or have friendships with "unstable" women and women from her "wild recent past," then he wasn't "the right partner for" her.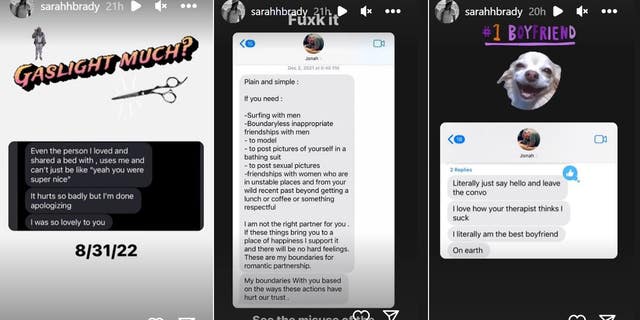 "Understood," she answered. "I don't need or want: Surfing with men without you there unless they are trusted close friends (mutually agreed upon), boundaryless [sic] inappropriate friendships with men, to model, to post pictures of myself in a bathing suit for the next year unless it is a tasteful (likely surfing) photo you have pre-approved, to post sexual pictures, friendships with unstable women from my recent past beyond getting a lunch or coffee or something respectful."
She explained after she shared the exchange that she had agreed to his terms to protect "him from crippling anxiety." 
She responded to another text exchange in which the "Superbad" actor said he felt they couldn't do "surf social things" together without him feeling "defective" and "not good enough" around her by telling him he needs to "consider her" feelings before they can "build trust."
In another screenshot, she pointed out to him that while he's an actor who sometimes kisses "gorgeous" women for his work, she's not jealous because she trusts him and believes he'll be "professional."
Brady said her "one wish" for Hill would be that he's surrounded "by feminist men who can hold him accountable to grow in the ways he has expressed he wants to." 
She added that being "emotionally abusive" doesn't mean someone's a "terrible person" and often stems from their "own trauma."
"At the same time it doesn't mean it's ok," she added.
The 26-year-old explained that their relationship, which lasted from 2021-2022, "ended pretty quickly" after she told him she wouldn't turn down a job offer from Roxy or Vans for him.  
She also reposted several of the surfing/swimsuit photos she had allegedly taken down at his request, captioning one of her in a crop top and skirt: "reviving a pic I took down by request of a misogynist narcissist."
---