The production company TackleBox cited other films and music videos that were shot at Tennessee's Maury County Courthouse, including 'Hannah Montana: The Movie'
By Ashley Hume
---
Jason Aldean is facing significant backlash after the music video for his song "Try That in a Small Town" was released Friday — and now the production company behind the project is defending its controversial filming location.
The 46-year-old country star's detractors have slammed the song's lyrics, which some perceived as having racial undertones and promoting a "pro-lynching" message, but the singer has strongly denied the claims. Critics have also blasted Aldean over the music video, the majority of which was filmed at a Tennessee courthouse which was the site of a 1927 lynching and 1946 race riot.
However, TackleBox, the company that produced the music video, told Fox News Digital that the courthouse is a "popular filming location outside of Nashville" that has been featured in a number of music videos and movies. In addition, TackleBox noted that the five-time Grammy Award nominee "did not pick the location."
"Any alternative narrative suggesting the music video's location decision is false," TackleBox wrote in a statement to Fox News Digital.
Scenes from the music video were shot outside the Maury County Courthouse in Columbia, Tennessee, where an 18-year-old Black man named Henry Choate was lynched in 1927. The courthouse was also a pivotal site during the Columbia race riot in 1946.
News footage of looting and fires that was taken during the 2020 riots was also projected on the courthouse during the music video. 
In its statement, TackleBox cited several music videos and movies that have been filmed at the courthouse, including most recently the 2022 Lifetime Original television movie "Steppin' into the Holiday" starring Mario Lopez and Jana Kramer.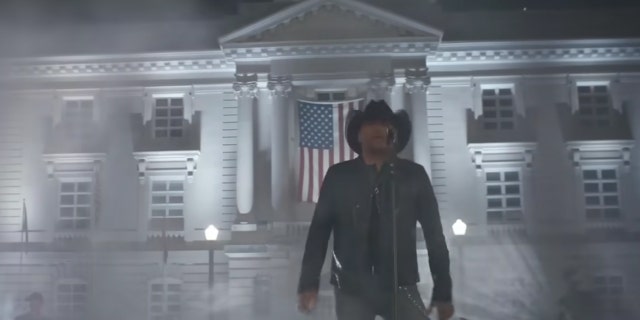 TackleBox also noted that the location was featured in a Runaway June music video for their 2019 song "We Were Rich," the 2022 Paramount holiday film "A Nashville Country Christmas" with Tanya Tucker, and Miley Cyrus' 2009 film "Hannah Montana: The Movie."
On Tuesday, a spokesperson for Country Music Television (CMT) confirmed to Fox News Digital that the network has pulled the "Try That in a Small Town" music video from circulation.
The network's representative did not provide more context for the decision.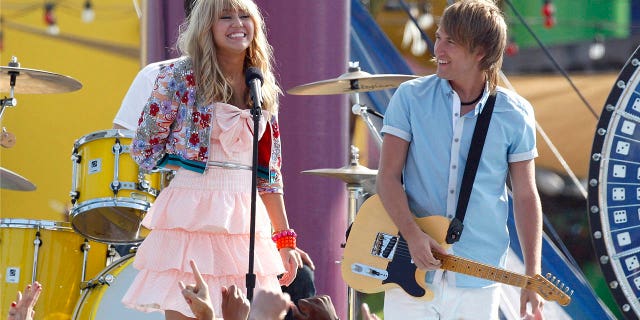 In the video, Aldean's lyrics are sung while news coverage from the 2020 riots illustrates his message. 
"Cuss out a cop, spit in his face / stomp on the flag and light it up," Aldean sings, along with footage of the described instances.
Aldean's tune has skyrocketed to success given all the controversy, sitting as iTunes' No. 1 song at the time of publication.
On Tuesday, Aldean addressed the response to his song.
"In the past 24 hours I have been accused of releasing a pro-lynching song (a song that has been out since May) and was subject to the comparison that I (direct quote) was not too pleased with the nationwide BLM protests. These references are not only meritless, but dangerous," he told his social media followers.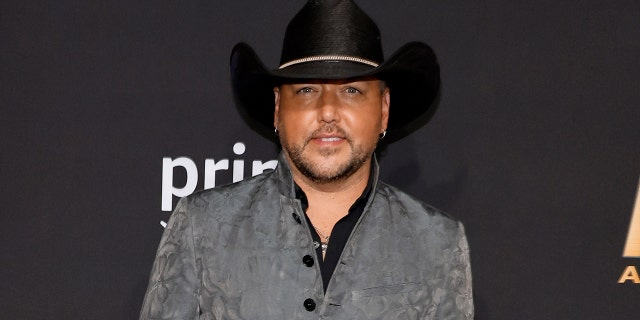 "There is not a single lyric in the song that references race or points to it — and there isn't a single video clip that isn't real news footage — and while I can try and respect others to have their own interpretation of a song with music — this one goes too far."
Aldean then referenced his direct connection to mass violence, reminding his followers that he was performing during the horrific Route 91 Harvest music festival in Las Vegas in 2017, where a man opened fire and killed 61 individuals, impacting the lives of thousands of people.
"As so many pointed out, I was present at Route 91 — where so many lost their lives — and our community recently suffered another heartbreaking tragedy," he said in reference to the Nashville school shooting in March that killed six people, including three children.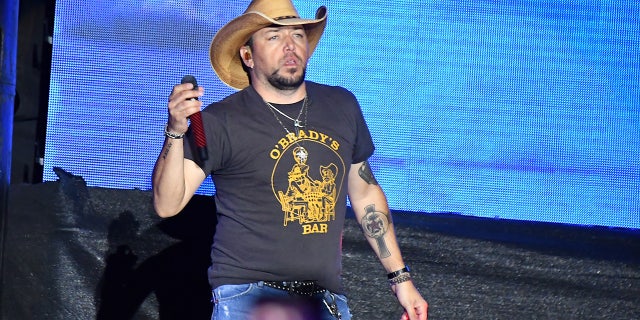 "NO ONE, including me, wants to continue to see senseless headlines or families ripped apart. 'Try That In A Small Town,' for me, refers to the feeling of a community that I had growing up, where we took care of our neighbors, regardless of differences of background or belief. Because they were our neighbors, and that was above any differences."
Aldean went on to stress, "My political views have never been something I've hidden from, and I know that a lot of us in this country don't agree on how we get back to a sense of normalcy where we got at least a day without a headline that keeps us up at night. But the desire for it to – that's what this song is about."
When the tune was released in May, Aldean said, "To me, this song summarizes the way a lot of people feel about the world right now. It seems like there are bad things happening on a daily basis, and that feels unfamiliar to a lot of us. This song sheds some light on that."
Fox News Digital's Caroline Thayer and Tracy Wright contributed to this report.
---