The 85-year-old actress and the 45-year-old NFL legend starred together in the upcoming comedy '80 For Brady'
By Ashley Hume
Jane Fonda gushed over meeting NFL legend Tom Brady on the set of their upcoming movie "80 For Brady."
The 85-year-old actress starred alongside Lily Tomlin, Sally Field and Rita Moreno in the sports comedy which was produced by Brady's 199 Productions and features a cameo appearance by the 7-time Super Bowl Champion.
Fonda described becoming starstruck upon meeting Brady, 45, during the film's premiere screening at the Palm Springs International Film Festival on Friday night.
"Tom Brady, I think he went into all of our trailers individually," she recalled during a Q & A, according to Variety. "And when he walked into my trailer at the end, my knees gave way."
The "Book Club" star continued, "I had to hold onto something. I mean, he is gorgeous. He is so gorgeous."
In the movie, Fonda, Moreno, Field and Tomlin play four best friends and Brady superfans who travel together to Houston, Texas to see the New England Patriots take on the Atlanta Falcons in the 2017 Super Bowl.
Super Bowl LI featured the biggest comeback in Super Bowl history after the Patriots overcame a 28-3 deficit to win the game. In addition to Brady, other Patriots players appeared in the movie including former tight end Rob "Gronk" Gronkowski, retired wide receiver Julian Edelman and former wide receiver Danny Amendola. 
During the screening, Field told the audience that she was waiting to meet the star athletes before they arrived.
"I was the one out there welcoming everybody," the 76-year-old actress remembered.
"There was no one else," Tomlin, 82, quipped, per Variety."No PAs out there, just Sally." 
Field continued, "I was out there, 'Hi, guys! I'm so glad you're here!"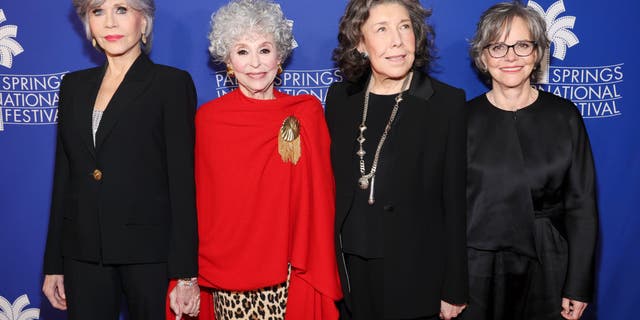 She added, "I wanted them to feel comfortable. I was a fan and I was out there welcoming them." 
Fonda went on to praise Brady for his good manners, recalling, "Tom was so gracious when he first came on the set to buy lunch."
"It was the first time he went to each of our trailers, which were our dressing rooms, and he introduced himself as though we didn't know who he was," the two-time Academy Award winner continued.
But once more, a gentleman. He showed kindness. My nephew is a huge football fan, so I had one of those enormous sweatshirts waiting for him. He was also very kind. And [Tom] added some writing to it for him; my nephew now has that in a frame hanging on the wall. Tom simply has excellent manners like that.
---
---
On the red carpet before the film's premiere, Fonda also gushed about the quarterback of the Tampa Bay Buccaneers. " "Despite being so good at what he does, he was kind and humble, which is hard to believe, but it's true. Additionally, she added that he was courteous and sweet.
The native New Yorker continued, "When he walked into my trailer, my knees actually became weak. That level of talent is astounding to me. You must respect and honor someone when they are the best in the world at what they do. I was simply in awe.
Brady received praise from Tomlin for his acting abilities during her THR interview. She said to the outlet, "He's a good actor. He is very approachable and humble.
She continued by describing Brady's performance in a protracted scene that they share in the movie.
As the former star of "Grace & Frankie" put it, "I was just staring at his face and his eyes and watching him listen to me as an actor trying to reciprocate in the same way." I had the impression that I was the Boston resident in her eightys. In fact, when I had to deliver this speech with him, I felt as though he were my son.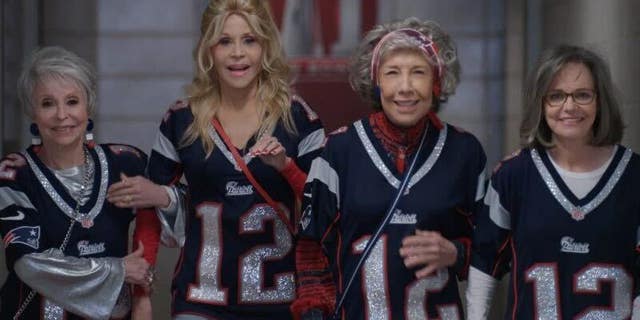 "He's clearly a performer," Field told THR. "He knows where to put any kind of adrenaline he might have and knows how to ride it over the top. He's a jaw-dropping, once-in-a-lifetime athlete and that's really hard to be around. 
"Just the fact that I was there, I mean, I've been a fan and watched him play — who hasn't? He's really staggering, not only for his physical skills but for his mental skills. He's a chess player out there [on the field]."
Last summer, Brady told THR that he was very impressed while watching the veteran actresses perform on set.
"We found the most amazing actresses," the first-time producer said. "Lily, Jane, Rita and Sally. They brought it all to life. At the end of the day, watching them act and watching them perform was so cool."
Directed by Kyle Marvin, the movie also starred Billy Porter, Rob Corddry,  Sara Gilbert, Glynn Turman, Bob Balaban, Ron Funches, Jimmy O. Yang, Harry Hamlin and Guy Fieri.
"80 For Brady" will be released in theaters on February 3.
---