'America's Got Talent' judge took to Instagram on Sunday to share a video of herself sledding, enjoying hot tub with husband Tom Kaulitz
By Mariah Haas
Heidi Klum is ringing in the new year by hitting the slopes.
The "America's Got Talent" judge, 49, took to Instagram on Sunday to share a video of herself sledding.
Heidi Klum and daughter Leni, 18, don skimpy lingerie after fans called last shoot 'creepy'
"Lets [sic] go 2023," she captioned the snowy video. In another post, Klum is seen walking atop a mountain. "Breathing in the new year," she wrote.
To celebrate the New Year, Klum also shared a cheeky photo while enjoying some time with her husband Tom Kaulitz in a hot tub.
"YES," Klum captioned the picture of herself and Kaulitz.
The picture shows the couple kissing with Kaulitz's hand resting on Klum's butt. Kaulitz wore swim trunks, while Klum wore a red swimsuit and a festive hat.
Klum made sure to mention that "America's Got Talent: All-Stars" is scheduled to return on Monday in between her posts about New Year's celebrations.
Earlier this year, Klum spoke to Fox News Digital about her time as a judge on "America's Got Talent" and how her judging style has changed since she first started on the show. 
"For me being there, I want to have fun. I want to have fun, I want to be entertained, I want to be blown away, but I want to have a good time. I want good vibes from the people," Klum said.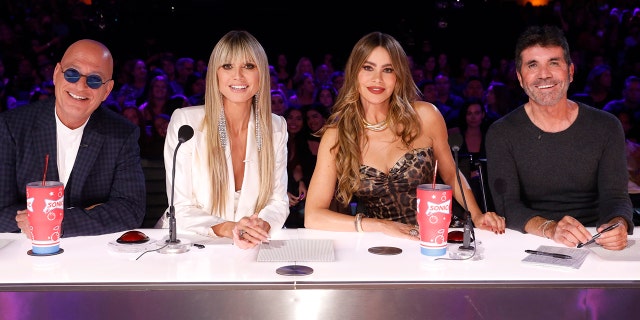 While Klum doesn't think she could ever be considered mean, she does admit to being more critical in her earlier seasons on the show. She first joined the show in 2013 for season 8, and stayed on until season 13, taking a break for two seasons before returning in season 15.
"Maybe I was harsher before, I don't know," Klum admitted. "I feel like maybe I've gotten nicer over the years, or maybe they have just gotten so much better. Maybe that's why I'm so much nicer because I don't have to be so mean. I don't think I was ever mean to be honest with you."
Fox News Digital's Lori Bashian contributed to this report
---
DON'T MISS