SAG actors voted Thursday to join Hollywood's writers who have been on strike since May
By Lauryn Overhultz
---
Fran Drescher, president of the actors trade union SAG-AFTRA, defended a photo she took with Kim Kardashian in Italy around the same time negotiations between actors and production companies began to break down.
Drescher was in Italy to attend Dolce & Gabbana's Alta Moda despite the union facing the strike deadline.
She defended the outing as "absolute work" during Thursday's press conference announcing SAG-AFTRA would be going on strike.
"I'm a brand ambassador for a fashion company, and so is Kim. I had only met Kim seconds before that publicity picture was taken. It had nothing to do with being at a party having fun – it was absolute work," Drescher insisted.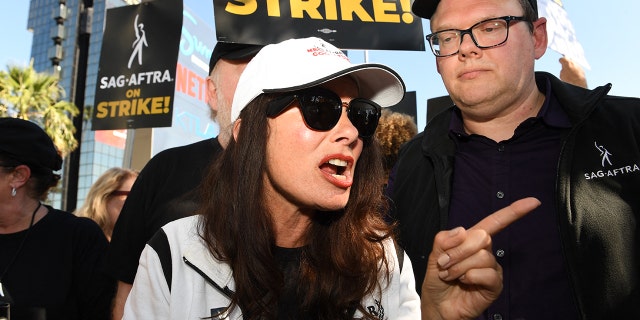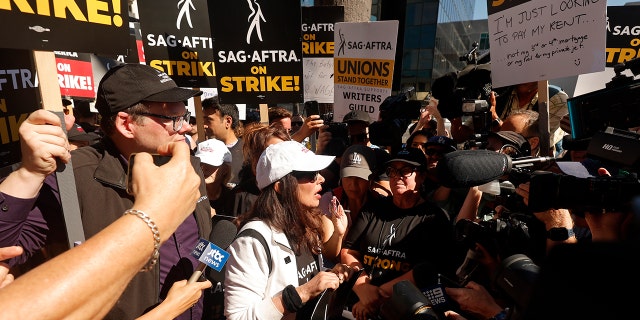 "I was in hair and makeup three hours a day, walking in heels on cobblestones, doing things like that, which is work – not fun," she continued. "I'm sure Kim would have rather been at her home in Malibu with her children too, but we work. That's what we do."
Drescher explained that after leaving the event where the photo was taken around 10:30 p.m., she called into the Zoom with union negotiators at her hotel room and "constantly" kept in touch with her SAG-AFTRA team via text.
"I worked around the clock in three different time zones," Drescher explained, noting that her parents live in Florida and that she also "manages their well-being" along with her day-to-day jobs.
SAG-AFTRA announced Thursday that the union had voted to strike after talks between production companies and leadership broke down.
"Ted Lasso" star Jason Sudekis and other top movie and TV actors joined picket lines alongside screenwriters Friday on the first full day of a walkout that has become Hollywood's biggest labor fight in decades.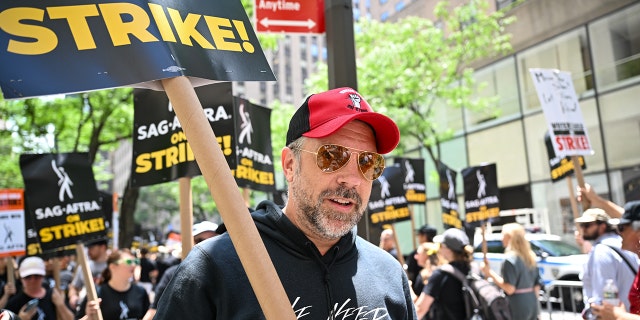 Other notable actors who joined picketing outside of other production companies include "Titanic" actor Frances Fisher, "Lord of the Rings" star Sean Astin and Drescher, who is most known for her role in "The Nanny."
The cast of "Oppenheimer," set to premiere on July 21, walked out of the UK screening of the film Thursday, shortly before the strike was announced. Cillian Murphy, Emily Blunt, Matt Damon and Florence Pugh were spotted on the red carpet before disappearing.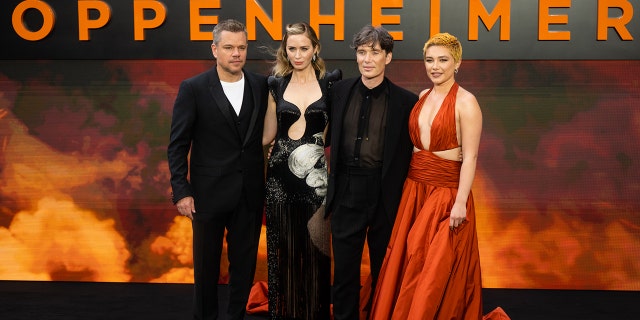 Director Christopher Nolan explained, in a video captured by Deadline, "We have to acknowledge (that) you've seen them here earlier on the red carpet," before adding, "Unfortunately, they're off to write their picket signs for what we believe to be an imminent strike by SAG."
Hollywood's writers have been on strike since early May. The addition of actors to the picket line marks the first time both sides have picketed simultaneously since 1960.
The two guilds have similar issues with studios and streaming services. They are concerned about contracts keeping up with inflation and about residual payments, which compensate creators and actors for use of their material beyond the original airing, such as in reruns or on streaming services. The unions also want to put up guardrails against the use of artificial intelligence mimicking their work on film and television.
The Associated Press contributed to this report.
---