The 'Asteroid City' actress admitted another time she did a 'pratfall' at a movie theater as a kid, prompting calls to emergency services
By Brie Stimson
---
Margot Robbie admitted in a recent interview she was a "dramatic" child who once pretended to be dead — complete with ketchup blood and a kitchen knife — to get rid of a babysitter she didn't like. 
"We got a new babysitter, and I wanted my old babysitter back, Talia, who was like 16. And I thought she was so cool," the Australian native told BBC Radio 2. "We got this much older lady in, and I was just not happy about it, and she told me to go have a bath, and I didn't want to. And she was very cranky, and I thought, 'I'm going to show you.'
"I got a big kitchen knife and the ketchup and I sprawled out naked on the tiles, covered myself in ketchup, put the kitchen knife and I waited like 45 minutes for her to find me." 
The 33-year-old said it was "so worth the wait," answering "Oh, yeah" when the interviewer asked if the babysitter ran "screaming from the house."
Robbie's "Barbie" co-star Ryan Gosling, who was also in the interview, joked, "You produced your own death."
"I did," she said, laughing. 
The "Once Upon a Time in Hollywood" actress also revealed she once did a "pratfall" on the stairs at a local movie theater as a child, prompting concerned onlookers to start "calling an ambulance." 
"I guess I was a bit of a dramatic child," she added. 
Robbie also told People magazine recently that despite starring as Barbie, she didn't love the toy as a child. 
"I didn't personally have any that I can recall," she said. "My sister did, and I remember my cousin did. I would play with my cousin's, but I wasn't actually that much of a Barbie girl as a kid."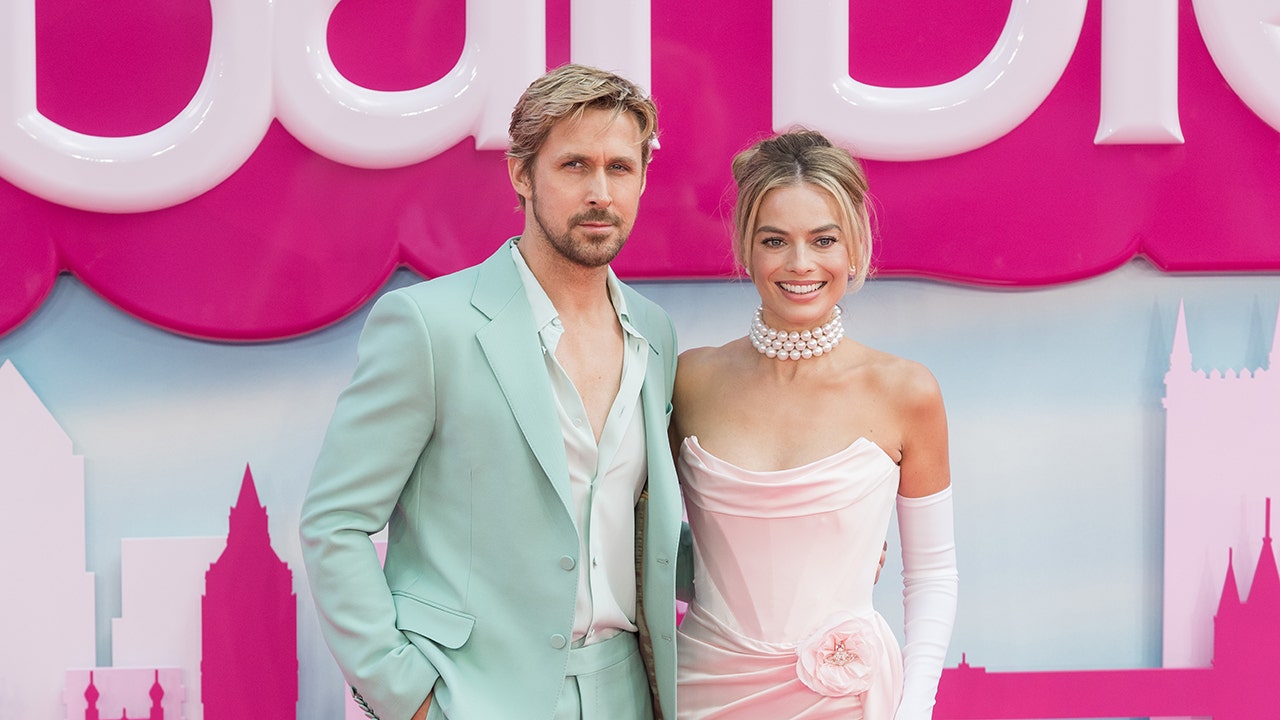 She added that she was more of a "roll-around-in-the-mud kind of gal" and that all the dolls she did have were "weird" and "janky" and "not well cared for." 
She has admitted, however, to still sleeping with her childhood stuffed bunny.
She told W Magazine in 2019 her husband Tom Ackerley "always throws Bunny out of the bed because he obviously thinks it's a tad ridiculous that I still sleep with Bunny."
"Maybe he's a little jealous that Bunny always gets priority place in the bed," Robbie teased. "He thinks I'm asleep, and he'll throw Bunny out of the bed and I get so cross with him."
---