By Snejana Farberov
---
An American citizen has been detained in North Korea after straying across the border into the communist country without permission during a tour, the United Nations Command said Tuesday.
The detainee has been identified as Travis King, a US Army soldier in the rank of private second class, reported South Korea's Dong-a Ilbo newspaper, citing South Korea's army.
King was taking part in a visit to the Joint Security Area – the border village in the demilitarized zone separating the two Koreas that is guarded by soldiers from both sides — when he reportedly crossed the border around 3:27 p.m. local time, according to local reports.
An eyewitness who was part of the same tour group as King told CBS News that they had just visited one of the buildings at the JSA village when "this man [King] gives out a loud 'ha, ha, ha,' and just runs in between some buildings.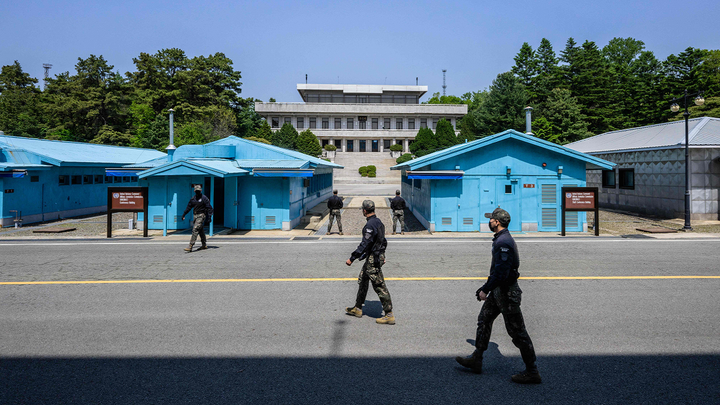 According to the witness, the tour organizers and other travelers did not have an immediate reaction to the man's antics.
"I thought it was a bad joke at first, but when he didn't come back, I realized it wasn't a joke, and then everybody reacted and things got crazy," the witness told the outlet.  
The UN Command confirmed the incident in a tweet: "A US National on a JSA orientation tour crossed, without authorization, the Military Demarcation Line into the Democratic People's Republic of Korea (DPRK)."
"We believe he is currently in DPRK custody and are working with our KPA counterparts to resolve this incident," the message continued, referring to North Korea's People's Army.
South Korea's Defense Ministry said it did not immediately have any information on the American soldier's detention by Kim Jong-un's regime.

State Department travel advisory bans US citizens from entering North Korea "due to the continuing serious risk of arrest and long-term detention of US nationals."

The ban was enacted after American college student Otto Warmbier was detained by North Korean authorities while on a tour of the country in 2015. He died in 2017, days after he was released from prison and returned to the US in a coma.

With Post wires
---