Mohamad Barakat's vehicle vehicle was also "loaded" with three long rifles, four handgun and a vest with loaded magazines
---
At a news conference on Wednesday, North Dakota authorities said that the shooter responsible for the death of a Fargo Police Department officer and the injury of two other officers used 1,800 rounds of ammunition, a grenade and other explosives to unleash a "murderous barrage of fire."
Mohamad Barakat, 37, was fatally shot by Officer Zachary Robinson, 31, authorities said. Officer Jake Wallin, 23, was killed, while officers Andrew Dotas, 28, and Tyler Hawes, 22, were critically injured. A woman was also shot, but authorities have not said who shot her.
Fargo's police chief has said Barakat's motive was unclear.
"In the wake of Mohamad Barakat's murderous, unprovoked attack, Officer Zach Robinson's use of deadly force was reasonable, it was necessary, it was justified, and in all ways, it was lawful," North Dakota Attorney General Drew Wrigley told reporters. "Mohamad Barakat engaged in a savage attack. … He unleashed what can only be described fairly as a murderous barrage of fire. But that isn't to say it wasn't precise. In fact, it was."
"He unleashed what can only be described fairly as a murderous barrage of fire."— North Dakota Attorney General Drew Wrigley 
Wrigley said Barakat's vehicle was "loaded" with 1,800 rounds of ammunition, three long rifles, four handguns, canisters of gasoline, a vest with loaded magazines in every pocket and a live homemade hand grenade.
Officials released a photograph showing that eight of the magazines bore American flag stickers or decals.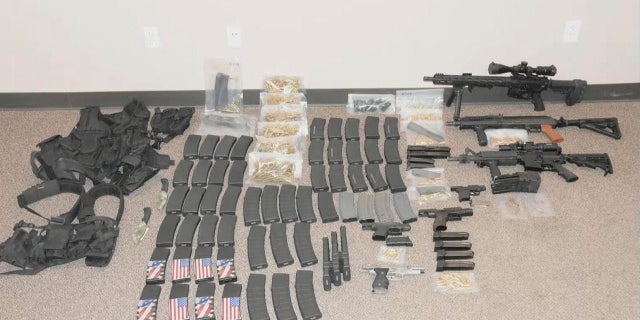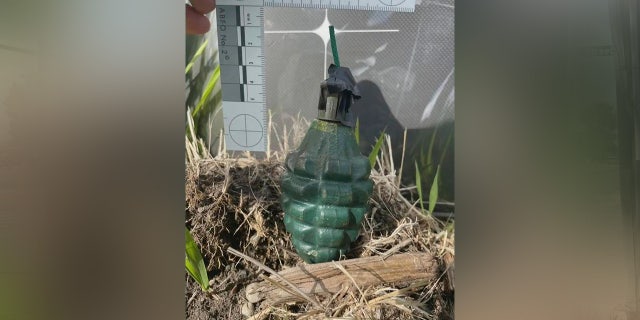 Wrigley said Barakat also had a "shooting vest" that wasn't bulletproof, but had magazines in every pocket, and he had a suitcase of weapons, which he had rolled out of his apartment right before getting into his car. There was no mention of whether Barakat had any protective gear.
"When you look at the amount of ammunition this shooter had in his car, he was planning on more mayhem in our community," Fargo Mayor Tim Mahoney said. Police Chief David Zibolski said Barakat's target was unknown.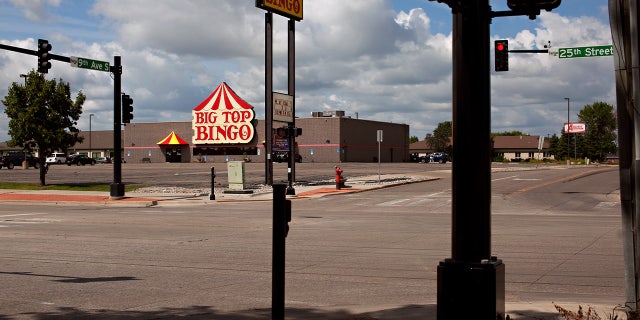 Wrigley said Robinson displayed "absolute courage under fire" as he moved away from the cover of his vehicle and exchanged fire with Barakat, including a shot that "incapacitated" the suspect's rifle — leaving roughly 20 rounds unused that could have been fired at other people. 
"He said, 'We have three officers down. Send everybody,'" Wrigley said. "And send everybody they did."
At some point Barakat was wounded, and was down on the ground, but he rearmed himself with a 9 mm handgun that he kept waving around, protected by his car, Wrigley said. Barakat continued to disobey Robinson's repeated commands to drop his gun. Robinson continued to move in and gave him one final command.
"'Put down the gun,' He does not. And the threat was neutralized by the officer," the attorney general said.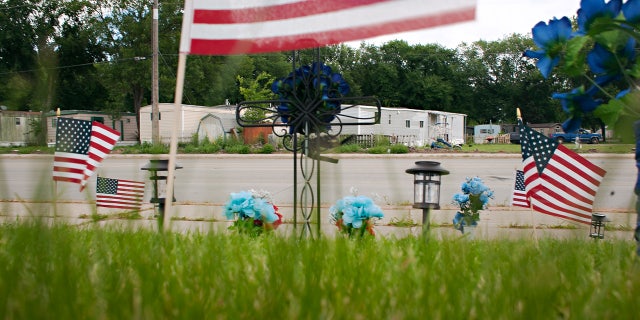 Shortly after the shooting, authorities, including the FBI, converged on a residential area about 2 miles (3.2 kilometers) away and evacuated residents of an apartment building to gather what they said was related evidence. Wrigley said Wednesday that authorities found more firearms at the apartment.
The state Bureau of Criminal Investigation and the FBI are still investigating.
Robinson was placed on paid administrative leave while state authorities complete an investigation into his use of force, per Fargo police procedure. Fargo Mayor Tim Mahoney said he anticipates a report evaluating Robinson's actions in the coming days.
The Associated Press contributed to this report.
---